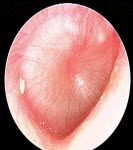 Child aged 9 months.
Being seen for well-child checkup.
Right tympanic membrane dull, bulging, erythematous, opaque, and the lateral process of the malleus is barely visible.
No symptoms of AOM or upper respiratory infection.
Questions for discussion with faculty
Would you take a more detailed symptom history?
What would be your management plan?