The early history of Pediatrics at the University of Wisconsin School of Medicine and Public Health began with the creation of the Section of Pediatrics in the Department of Medicine with Director John Gonce, MD, and three faculty members. In 1932, Dr. Gonce was named the first professor of pediatrics, and in 1957 — a year after his death — the school created the Department of Pediatrics. Throughout its history, our department's faculty have dedicated themselves to providing excellent patient care, educating the next generation of physicians, and forging cutting-edge discoveries in basic and clinical research to improve the health of children.
In 1920, the Mary Cornelia Bradley Hospital for the Study of Children's Diseases opened as the first freestanding children's hospital in Madison, Wisconsin. For many years, care for hospitalized children was divided among three separate locations throughout the city. When the Bradley Hospital became too small for patient needs, care for all pediatric patients was consolidated to a four-story building on Linden Drive in 1957, and the building was renamed the University of Wisconsin Children's Hospital. The Clinical Sciences Center opened on the far west side of the UW–Madison campus in 1979, providing a new home for the University of Wisconsin Children's Hospital within the University of Wisconsin Hospital and Clinics.


August 2007 marked the opening of the American Family Children's Hospital (AFCH), a freestanding, state-of-the-art facility designed around the needs of children and their families. American Family Children's Hospital was ranked among the top 50 children's hospitals in six medical and surgical specialties in U.S. News and World Report's 2018-2019 Best Children's Hospitals Guide.
As of August 2019, American Family Children's Hospital has
111 licensed beds
A 26-bed, Level IV Neonatal Intensive Care Unit (NICU)
8 dedicated pediatric operating rooms
A 21-bed Pediatric Intensive Care Unit (PICU)
A 24-bed Pediatric Universal Care Unit
Dedicated pediatric imaging and pediatric hybrid cath/angio suites
Today's American Family Children's Hospital is a comprehensive pediatric medical and surgical center staffed by nationally recognized faculty who provide world-class care for a wide range of specialties. The hospital offers care in a modern facility with advanced technology that is also a national model for family-centered care to provide the best possible environment for children to heal.
Learn more about American Family Children's Hospital.
Current Growth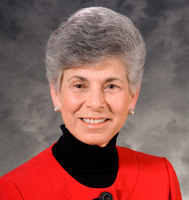 Ellen Wald, MD, an expert in pediatric infectious diseases, became the Department of Pediatrics' sixth chair in 2006.
Under Dr. Wald's leadership, the number of faculty in the department has more than doubled (from 89 faculty in 2006 to 201 faculty in 2021). Extramural research funding has also grown significantly, from $14.6 million in FY07 to $51 million in FY21.
Our faculty in the Department of Pediatrics provide world-class care for children at the American Family Children's Hospital through a variety of specialized clinical programs, including an internationally recognized transplant program, a comprehensive children's cancer center, a pediatric asthma center, and a pediatric heart program.
Pediatric Hospitalist Program
Recognizing the importance of providing coordinated patient- and family-centered care, Dr. Wald spearheaded the creation of a pediatric hospitalist program at AFCH. The division was one of the first such programs in the nation and has grown from its initial complement of three physicians to 14 faculty. Our doctors work collaboratively with families and their medical and surgical specialty colleagues to provide the safest and highest quality inpatient care. The program has achieved national prominence for our faculty's clinical and research accomplishments.
Care for Children with Medical Complexity
Children with complex medical conditions comprise a small but growing group of patients with multiple serious medical issues. These patients have an enormous impact on our health care system due to the time and resources required to care for their medical needs. Dr. Mary Ehlenbach and Dr. Ryan Coller, two of our pediatric hospitalists, recognized that these patients and their families faced many challenges to receiving optimal health care and spearheaded the design of a comprehensive, multi-specialty program to provide coordinated primary and specialty care for these children. Our faculty are also working to ensure a smooth transition for patients with chronic conditions to move from pediatric to adult care.
Pediatric Heart Program
The pediatric cardiology and heart surgery program at AFCH was ranked among the top 50 specialties in children's hospitals throughout the country by U.S. News and World Report in 2019. We have an outstanding interventional service that provides care for complex pediatric patients as well as adults with congenital heart disease. The program recently received accreditation by the national Adult Congenital Heart Association. Our children's hospital is a national leader in ensuring minimal radiation exposure for children undergoing procedures in our dedicated pediatric imaging suite.
Pediatric Cancer Program
Our children's cancer center is part of the University of Wisconsin Carbone Cancer Center, one of a small number of select centers nationwide designated by the National Cancer Institute to be comprehensive. Researchers in our Division of Pediatric Hematology, Oncology, and Bone Marrow Transplant are dedicated to developing novel, cutting-edge treatments for childhood cancer. In 2013, the division was selected as one of seven institutions to join North America's only pediatric cancer "Dream Team," to collaboratively advance the study of immunotherapy and accelerate development of new cancer therapies. Several highly specialized treatments for pediatric cancers, especially for leukemia and neuroblastoma, were developed here and are offered at AFCH.
Level IV Neonatal Intensive Care Unit (NICU)
In 2014, a new Level IV NICU opened at AFCH. The unit, which recently expanded from 14 to 26 beds, provides state-of-the-art care for some of our sickest and most vulnerable patients. Our providers care for premature and full-term infants who require complex surgical interventions and medical treatments. The Division of Neonatology has grown significantly, from six faculty in 2012 to 25 faculty now. Our patients come from throughout the state and region, transported by ground or air by our Children's Hospital Emergency Transport Ambulance, a team with extensive experience caring for critically ill infants and children. Through a joint collaborative agreement with Meriter UnityPoint Health, we have created a comprehensive system to care for all neonates.
Pediatric Allergy Program
Our providers are focused on improving therapies for childhood allergies and asthma to improve the quality of life for children and their families. Faculty in the Division of Pediatric Allergy, Immunology, and Rheumatology are nationally recognized and lead some of the premier research programs in the U.S., including the Children's Respiratory and Environmental Workgroup, which is collecting standardized data from 10 birth cohorts around the country to better understand environmental causes of allergic disease and asthma. Recently, AFCH has become one of the newest centers of excellence in the Food Allergy Research and Education Clinical Network. This food allergy research collaborative is comprised of 33 leading research and clinical care facilities throughout the country. Membership in this network will enable our faculty to participate in clinical trials and improve care for patients with potentially life-threatening food allergies.
Department Chairs: 1957-2005
Each Department of Pediatrics chair has overseen prodigious growth through decades of medical breakthroughs, increased numbers of faculty and learners, and advances in research.
| | |
| --- | --- |
| | 1957–1963: Nathan Smith, MD. A graduate of what was then known as the UW Medical School, Dr. Smith was an associate professor of pediatrics at the University of California, Los Angeles, before becoming the department's first chair. |
| | 1964–1974: Charles Lobeck, MD. Dr. Lobeck specialized in cystic fibrosis research and patient care. In 1975, he became dean of the University of Missouri Medical School, and later returned to the UW Medical School as vice dean. |
| | 1975–1984: William Segar, MD. An expert in fluid and electrolyte metabolism and pediatric fluid therapy and dialysis, Dr. Segar was a driving force in building the UW's pediatric renal service. |
| | 1985–1995: Philip Farrell, MD, PhD. Dr. Farrell is an international expert on cystic fibrosis research and patient care, as well as newborn screening. He was the dean of the UW School of Medicine and Public Health from 1995 to 2006. |
| | 1996–2005: Aaron Friedman, MD. A former department resident and fellow, Dr. Friedman joined the faculty in 1981 as a pediatric nephrologist. He was the dean of the University of Minnesota Medical School from 2011 to 2013. |