The mission of the University of Wisconsin Department of Pediatrics is to promote and enhance the health of children through outstanding clinical care, exemplary education of pediatrics trainees, performance of cutting-edge research, and vigorous advocacy. Pediatricians are natural advocates. In addition to daily bedside and outpatient clinical advocacy for individual patients, our providers practice broader advocacy activities as well.
Community
We partner with local schools and community organizations to promote research-based, equitable solutions in children's physical and mental health, and serve as board members on various local organizations.
Legislative
Children can't vote and can't necessarily speak for themselves, so we advocate on their behalf, whether that be for safe sports participation or effective vaccine use. We also serve as advisors on various governmental councils and to school districts.
Professional
Many of our members hold leadership positions within the American Academy of Pediatrics or other professional organizations and collaborate with pediatricians across the state, country, and world to improve child health.
Expert advice and commentary
Department members impart their expertise through media interviews, Op-eds, letters to the editor, and journal articles. They also contribute to the Growing Up Healthy blog on uwhealthkids.org.
Related Resources and Links
Learn more
To learn more, contact: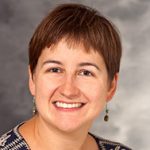 Laura Houser, MD
Director of Advocacy,  lhouser@wisc.edu