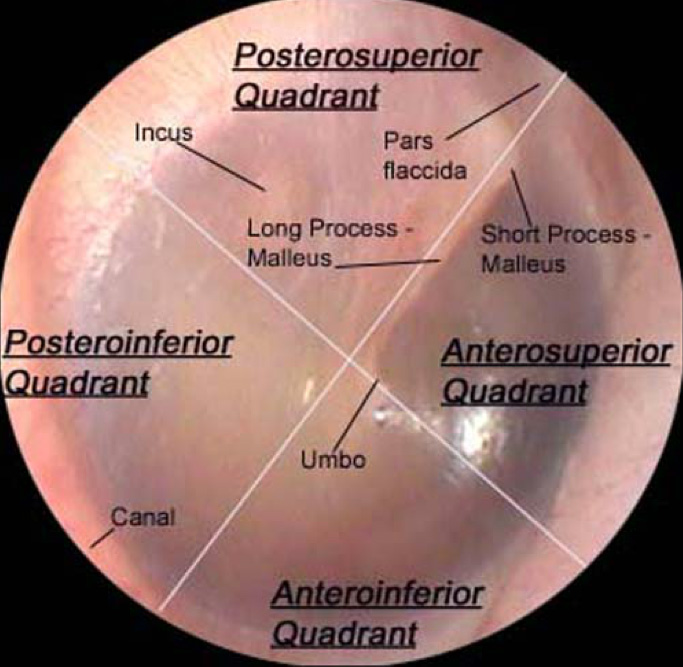 *image courtesy of ePROM1
Try to identify the marked anatomical structures and areas below.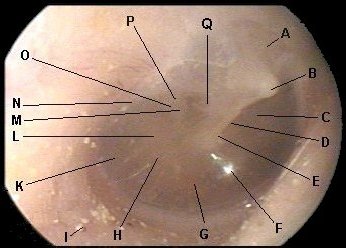 This is an accordion element with a series of buttons that open and close related content panels.
Reveal the Answers
A – Pars flaccida
B  – Short process of malleus
C – Pars Tensa (anterior superior quadrant)
D – Manubrium of malleus
E – Umbo
F – Light reflex
G – Pars Tensa (anterior inferior quadrant)
H – Promontory of cochlea
I – Grains of sand
K – Round window niche
L – Pars Tensa (posterior inferior quadrant)
M – Incus (lenticular process)
N – Chorda tympani
O – Incudostapedial joint
P – Incus (long process)
Q – Pars Tensa (posterior superior quardrant)
Lettering scheme taken from Jerger, J., Clinical experience with impedance audiometry. Arch Otolaryngol, 1970;92:311-324
1:Kaleida PH, Ploof DL, Kurs-Lasky M, Shaikh N, Colborn DK, Haralam MA, Ray S, Kearney D, Paradise JL, Hoberman A. Pediatrics. Mastering diagnostic skills: Enhancing Proficiency in Otitis Media, a model for diagnostic skills training. 2009 Oct;124(4):e714-20. doi: 10.1542/peds.2008-2838. Epub 2009 Sep 28.