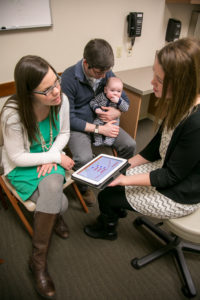 The mission of the Division of Genetics and Metabolism at the University of Wisconsin School of Medicine and Public Health is to maintain excellence in clinical genetics care, education, and research.
All clinics are staffed by board certified medical geneticists who are members of the University of Wisconsin Department of Pediatrics faculty. Our team consists of physicians, genetic counselors, dietitians and doctors in training.
Individuals and families are seen to help them understand and cope with birth defects and genetic conditions such as achondroplasia, cystic fibrosis, Down syndrome, Ehlers-Danlos syndrome, Gaucher disease, Marfan syndrome, osteogenesis imperfecta, phenylketonuria (PKU), inborn errors of metabolism and Prader–Willi syndrome, among many others. Our multidisciplinary specialists work with patients and families to provide diagnostic, counseling, management care coordination and referral services. Our clinics range in scope from the evaluation of individuals with birth defects to those with a wide range of inherited disorders occurring throughout life and follow-up of newborn screening by testing for inborn errors of metabolism.