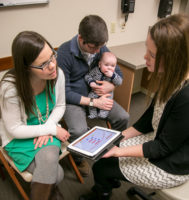 The University of Wisconsin Department of Pediatrics' Division of Genetics and Metabolism is dedicated to excellence in clinical genetics care, education, and research.
Our clinics are staffed by board-certified medical geneticists who are members of the Department of Pediatrics faculty. Our team consists of physicians, genetic counselors, dietitians, nurses, and fellows. Members of the division direct accredited training programs in genetic counselling, medical genetics, biochemical genetics, clinical cytogenetics, and molecular genetics.
Guidance and care for living with a genetic condition
Our division members help individuals and families to understand and cope with birth defects and genetic conditions such as achondroplasia, cystic fibrosis, Down syndrome, Ehlers-Danlos syndrome, Gaucher disease, Marfan syndrome, osteogenesis imperfecta, phenylketonuria (PKU), inborn errors of metabolism and Prader–Willi syndrome, among many others.
Our multidisciplinary specialists work with patients and families to provide diagnostic, counseling, management care coordination, and referral services. Our clinics range in scope from the evaluation of individuals with birth defects to those with a wide range of inherited disorders occurring throughout life and follow-up of newborn screening by testing for inborn errors of metabolism.
Improving genetics understanding through research 
Our genetic scientists work to improve care for your child. We research the causes of developmental disabilities and new treatments and interventions. We help children and adults with disabilities learn, live, work and enjoy their lives in their communities. Learn more (Waisman Center) | Learn more (Department of Pediatrics)
Expert care close to you
We offer specialized pediatric genetics care at UW Health clinics. Our division also has strong ties with the UW Center for Human Genomics and Precision Medicine (CHGPM), which was established in 2017 and expanded the university's activities in applied genomics and personalized medicine. Members of our division also see patients at the Waisman Center, which is dedicated to the advancement of knowledge about human development, developmental disabilities, and neurodegenerative diseases. One of only 14 centers of its kind in the United States, the Waisman Center encompasses laboratories for biomedical and behavioral research, a brain imaging center, and a clinical biomanufacturing facility.