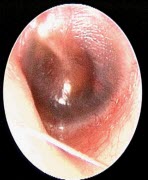 Child 14 months old.
Continuous bilateral middle ear effusion for 4 months.
Two AOM episodes in first year of life.
TM exam, no mobility, retracted, normal structures, bluish appearing.
Questions for discussion with faculty
What would be the indications for referral to an otolaryngologist?
How would you determine whether this child might be a candidate for tympanostomy tubes?