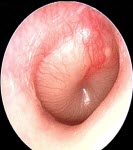 Child 13 months old.
Developed febrile AOM 2 days ago and was started on high-dose amoxicillin.
Two days later returned to office, ear still bulging and red, no structures identified.
Still spiking temperatures.
Questions for discussion with faculty
Name the microorganisms which might be causing this infection.
How might you identify the infecting agents?
Provide a treatment plan.