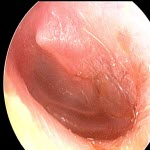 Child age 8 months.
Treated with antibiotics 3 weeks ago for AOM. Puffy, fussing with ears, restless sleep, poor appetite, URI symptoms. Temperature 39.4.
Left ear, middle ear effusion, not full, no bulging, no erythema, immobile.
Right ear: initially obstructed by cerumen. After cerumen was removed, right tympanic membrane same as left.
Questions for discussion with faculty
How would you treat this patient?
The mother would like to know how she might remove wax at home – what would you tell her?