Welcome to the University of Wisconsin Department of Pediatrics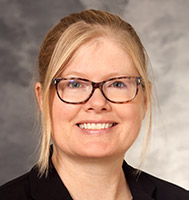 The Department of Pediatrics at the University of Wisconsin School of Medicine and Public Health is a vibrant academic department comprising more than 200 faculty in 16 subspecialty divisions.
Our education programs meet the needs of learners at all levels: undergraduates, medical students, residents, fellows, postgraduate trainees, and practicing health care professionals. Our graduating residents enter desirable primary care practices or top-quality subspecialty fellowships in academic medical centers. We are also committed to the professional development of our faculty and pediatricians across the state. As such, we host conferences, Grand Rounds, and other live events focused on cutting-edge topics in pediatric and adolescent medicine.
Our basic, translational, and clinical research programs aim to generate new knowledge to improve the health of children. In FY23, we had more than $55 million in extramural grants supporting our work, and we ranked No. 9 in NIH research funding among medical school pediatric departments in the Blue Ridge Institute for Medical Research 2022 rankings.
Our investigators collaborate with research partners across the UW School of Medicine and Public Health and the broader UW–Madison campus. We also provide ample opportunities for learners to engage in research.
We provide a full range of pediatric inpatient and outpatient clinical services in partnership with colleagues from other medical and surgical subspecialties. Clinical facilities include the state-of-the-art American Family Children's Hospital, community hospitals UnityPoint Health – Meriter and SSM Health St. Mary's Hospital – Madison, and outreach clinics statewide.
Through our robust resident advocacy curriculum and numerous outreach activities, we advocate for the well-being of children in the community and around the world.
We are dedicated to continued excellence and growth, and we appreciate your interest in our department. To learn more about our work and our accomplishments, please browse our website, view our annual reports, or contact us directly.
Our Mission
The University of Wisconsin Department of Pediatrics promotes and enhances the health of children through outstanding clinical care, exemplary education of pediatric trainees, performance of cutting edge research, and vigorous advocacy.
Our Vision
Provision of the safest and highest quality, innovative and coordinated care in an environment that supports inquiry and discovery and promotes well-being and professionalism.
Our Core Values
Accountability, compassion, diversity, empathy, excellence, innovation, integrity, respect, and teamwork
Our 2023 Annual Report highlights the extraordinary clinical care, research activities, and educational milestones that took place in the department between July 1, 2022, and June 30, 2023. Read about the remarkable accomplishments and incredible talents of our faculty, staff, and trainees.
Visit our careers page for a list of open faculty positions as well as administrative and research staff openings. UW–Madison fulfills its public mission by creating a welcoming and inclusive community for people from every background — people who as students, faculty, and staff serve Wisconsin and the world.
The Gilbert-Barness Lecture will welcome a national expert on juvenile idiopathic arthritis. Guest lecturer Dr. Grant Schulert will present his talk, "The Good, the Bad, and the Weird: Management of Systemic Juvenile Idiopathic Arthritis" on November 30, 7:30–8:30 a.m. via Zoom. CME credit will be offered. The annual lecture is hosted by the Departments of Pediatrics and Pathology and Laboratory Medicine.
Recent News
Since December 1973 — 50 years this month — Ei Terasawa Grilley, PhD, has worked as a scientist with the Wisconsin National Primate Research Center (WNPRC). She has also served as professor in the Department …

December 8, 2023