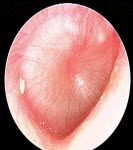 Child aged 4 years.
Being seen for well-child checkup and is complaining of mild discomfort in the right ear.
Right tympanic membrane dull, bulging, erythematous, opaque, and the lateral process of the malleus is barely visible.
The child has mild discomfort.
Questions for discussion with faculty
How would your treatment plan differ from case 8?