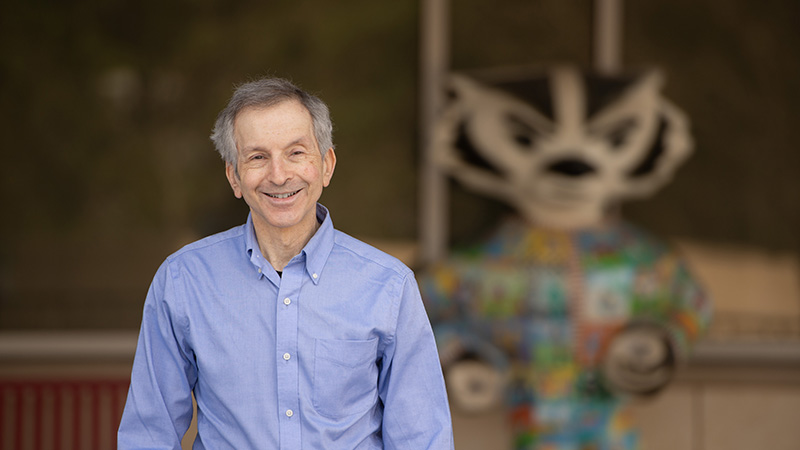 When Michael J. Rock, MD, professor, Division of Pulmonology and Sleep Medicine, arrived at the Department of Pediatrics to begin a pediatric pulmonology fellowship in 1986, he had no inkling that the research scene he was stepping into would determine the trajectory of his entire career. At the time, the University of Wisconsin's pathbreaking cystic fibrosis (CF) randomized clinical trial to test the benefits and risks of newborn screening was just getting started. During his fellowship years, 1986 to 1989, and then again as a faculty member in the Department of Pediatrics, 1995 to 2023, Rock has been a force promoting the progress, innovation, and essential communication among diverse groups that have sustained, strengthened, and expanded the work of the UW Cystic Fibrosis Center.
Hara Levy, MD, MMSc, professor and chief of the Division of Pulmonology and Sleep Medicine, called Rock the "face" of cystic fibrosis care in Wisconsin and nationally. "Under his tutelage as Cystic Fibrosis Center director and pulmonology and sleep medicine division chief, he oversaw clinical trials that subsequently changed the lives of children who had a limited childhood life expectancy and gave them long and fulfilling lives," she stated. "When we think of UW Health's strategic commitment to 'remarkable care,' I believe it encompasses what Dr. Rock has been modeling his entire career."
After 28 years of service, Rock's career in health care will come to an end when he retires in July. But he knows all of this work will continue apace through the efforts of the center's many brilliant and dedicated clinicians and researchers.
Born in Oklahoma City, the youngest of three children, young Mike was encouraged by his mother. With his older brother becoming a lawyer and his sister a teacher, "My mom was a typical Jewish mother who wanted a son who was a doctor. She tried to brainwash me for years," Rock said, laughing.
After finishing his BS in chemistry at the University of Oklahoma, he went on to complete an MD at the University of Oklahoma College of Medicine in 1983 and continued there with his internship and residency in pediatrics. He sought out a pediatric pulmonology fellowship at the University of Wisconsin.
Shortly before Rock arrived in Madison, the first cystic fibrosis randomized clinical trial, headed by Philip Farrell, MD, PhD, emeritus dean and professor, Division of Pulmonology and Sleep Medicine, had begun. "I was very lucky to come along as a fellow here in July 1986," Rock said. "Dr. Farrell's randomized trial started in April 1985, so I was on board with that study only about a year after it was initiated. I published two papers as a fellow and attended the 1987 North American Cystic Fibrosis Conference in Toronto, where I had a poster."
The Wisconsin Cystic Fibrosis Neonatal Screening Project now stands as a historical endeavor and great success; new research studies branching from the original investigations continue today. But until the late 1980s, CF's exact cause was unknown. The disease causes normally slippery fluids in lungs and other organs to become thick and sticky, resulting in lung, pancreatic, and other digestive impairment, risk of severe lung infections, malnutrition, and death. Before the Wisconsin screening project, there was no established early diagnostic method beyond the notation of extremely salty sweat. Children with CF were usually diagnosed between 4 and 5 years of age, already suffering from lung impairment, significantly delayed growth, and often severe malnutrition.
In March 1979, The Lancet published an article on a new blood spot immunoreactive trypsin (IRT) assay that was potentially reliable and feasible as a screening test for CF in newborns. Later in 1983, a Cystic Fibrosis Foundation (CFF) ad hoc committee task force on neonatal screening published a position paper in Pediatrics strongly recommending against early CF screening, positing that it would do more harm than good. Despite this, Farrell and his research team continued designing their screening project with an intention to fully test their hypothesis: Early diagnosis of CF will be medically beneficial without major risk. The study was funded by the National Institutes of Health (NIH) as the Wisconsin Cystic Fibrosis Neonatal Screening Project in 1985 and for the next 28 years.
It may seem counterintuitive to some that screening and early diagnosis of a serious disease would not be considered beneficial. However, CF's cause was unknown, and there was no cure or effective treatment. Many considered the CFF's position to be prudent and reasonable — indeed, newborn screening was generally not done for conditions for which there was no treatment. CF newborn screening research program coordinator Anita Laxova commented recently on that situation: "What our CF screening project was doing was very controversial at the time. Some people questioned the wisdom of diagnosing pre-symptomatic infants."
During his fellowship years, Rock was deeply involved in the cystic fibrosis randomized clinical trial project. Fortuitously, those years also saw huge, transformational advances in knowledge concerning CF's cause, pathogenesis, and possible treatments. In 1986 a genetic cause was localized, and in 1989, a team of researchers including Canadian geneticist Lap-Chee Tsui and biochemist John R. Riordan, and (then) University of Michigan physician and geneticist Francis Collins discovered the first mutation of the cystic fibrosis transmembrane conductance regulator (CFTR) gene — known as the ΔF508 mutation. It was an important discovery of a disease-causing gene mutation. The landscape of CF research and treatment — and possible pharmaceutical approaches — suddenly shifted and metamorphosed before the eyes of clinicians and researchers.
This monumental genetic discovery quickly led to genetic testing for CF. The Wisconsin Cystic Fibrosis Neonatal Screening Project switched to a two-tiered screening system in 1991, using both IRT and F508 screening tests. This greatly increased screening accuracy, which allowed the study to continue much longer. Early diagnosis combined with early treatment with vitamins and a special high-fat, high-calorie diet was shown to be very beneficial to patients with CF.
After his very consequential pulmonology fellowship ended, Rock served for five years in director roles at the Cystic Fibrosis Center at the University of Tennessee and the Le Bonheur Children's Medical Center, both in Memphis. "Eleven months after I arrived, the only other clinician with CF knowledge took early retirement. I was the sole pulmonologist for a metropolitan area of over a million people," Rock explained. "It was a very tough time, but I count it as a tremendous learning experience."
In 1995, he happily returned to Wisconsin and the ongoing Wisconsin Cystic Fibrosis Neonatal Screening Project as an assistant professor in the Department of Pediatrics. Within four months he became the director of the University of Wisconsin's Cystic Fibrosis Center.
The UW Cystic Fibrosis Center cares for patients with CF and also supports treatment research. Research increased considerably everywhere after the discovery of CF's genetic cause. "The national Cystic Fibrosis Foundation realized that to bring the many new therapies being developed to market, there needed to be a clinical trials network," Rock explained. "CFF established the Therapeutics Development Network (TDN) and started with eight centers. The UW Cystic Fibrosis Center applied to be one, but we were turned down."
Rock then applied for and was awarded a CF Research Facilitation Award (CFRA) in 2006. He hired a research coordinator and worked to build the research infrastructure that the UW needed to be able to conduct clinical trials for CF drugs and other therapeutics. The UW Cystic Fibrosis Center was then accepted by CFF as a Therapeutics Development Center. Today it employs four research coordinators, a new regulatory coordinator, and is among 90 TDN centers conducting clinical trials to increase treatment options for children and adults living with CF. Rock considers his research infrastructure development that allowed the center to become part of the CFF TDN as one of his biggest achievements as its director.
Rock will serve as the center's director until the end of June 2023. Christina Barreda, MD, assistant professor, Division of Pulmonology and Sleep Medicine, and Levy will take over in July as co-directors. Within the Department of Pediatrics, Rock also served as chief of the Division of Pulmonology and Sleep Medicine from 2004 to 2014 and Pediatric Pulmonology Fellowship Director 1997–2003 and 2005–2018.
Always seeking to increase communication among CF caregivers, Rock created the Wisconsin Cystic Fibrosis Consortium, which consists of two core centers in Milwaukee and Madison and affiliate centers in Green Bay, Marshfield, and La Crosse. Its purpose is to gather together annually those who work across the many disciplines treating patients with CF. Nutritionists, social workers, and physicians can sit together with their peers to share best practices, current projects, useful referrals, and ongoing research.
Farrell, who worked closely with Rock for decades, in a statement offering his gratitude and a fond farewell to Rock, said that the department was fortunate to recruit Rock from Tennessee in 1995 after experiencing his outstanding work during his years as a UW pulmonology fellow. "In his nearly four-decade career, Dr. Rock has excelled as a clinician, teacher, researcher, administrator, and leader, which contributed to him achieving international recognition," Farrell added. "Soft spoken but powerful, Mike has had an extraordinary impact. His 60-page CV lists 69 peer-reviewed publications and an incredible 128 grants! Everyone who has worked with Mike locally and regionally appreciates his great talents and delightful personality."
Rock welcomes retirement and anticipates spending more time working with his wife on their enormous hummingbird garden on Madison's west side. They have been featured in local newspapers, on Wisconsin Public Television, and have traveled nationwide gathering information and making connections.
When Rock retires in July, it will be 40 years since he finished medical school. "Forty years is an important time marker in Jewish history and culture," Rock explained. "And for me, it will be a good transition."