Hara Levy, MD, MMSc
Position title: Visiting Professor, Division Chief
Address:
Division of Pulmonology & Sleep Medicine
600 Highland Avenue, Madison, WI 53792-4108
For Academic Inquiries: (608) 262-7310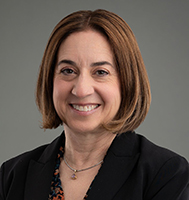 Education
BS, Stanford University, Palo Alto, California
MS, Stanford University, Palo Alto, California
MD, Medical College of Wisconsin, Milwaukee, Wisconsin
Residency, Internal Medicine and Pediatrics, Medical College of Wisconsin, Milwaukee, Wisconsin
Fellowship, Pediatric Pulmonary Medicine, Boston Children's Hospital, Boston, Massachusetts
Fellowship, Pediatric Scientist Development Training Program in Genetics, Harvard Medical School, Boston, Massachusetts
MMSc, Harvard Medical School, Boston, Massachusetts 
Professional Activities
Dr. Hara Levy is visiting professor (CHS) and chief of the Division of Pulmonology and Sleep Medicine. She serves as co-director of the American Family Children's Hospital Pediatric Cystic Fibrosis Center. Levy's professional activities are influenced by her work as a physician-scientist with a track record of National Institutes of Health (NIH) and sponsored research funding since 2003. Levy has also served as associate director of the Milwaukee Cystic Fibrosis (CF) Center, director of pulmonology research at Lurie Children's Hospital and Stanley Manne Children's Research Institute at Northwestern University, and as head of the Pediatric Pulmonary Division at National Jewish Health in Denver.
Clinical Interests
Levy is a pediatric pulmonologist with an interest in tailoring medical care to individual patients based on their genomic profile. In addition to patient care, she has spearheaded research initiatives focused on understanding the genomic basis of pulmonary disease.
Research Interests
Levy's research is dedicated to characterizing the relationships among environmental and genetic factors that modify CF lung disease severity and that predict clinical course and therapeutic response. Levy's recent publications highlight her collaborative strength in the epidemiology of CF, healthcare disparities, and genetics- and genomics-based assays of CF and CF newborn screening.