Michael Rock, MD
Position title: Professor, Associate Fellowship Director
Address:
Division of Pulmonology & Sleep Medicine
600 Highland Avenue, Madison, WI 53792-4108
For Academic Inquiries: (608) 262-7310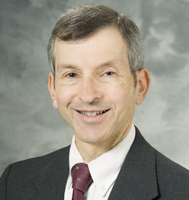 Education
BS, University of Oklahoma, Norman, Oklahoma
MD, University of Oklahoma, Oklahoma City, Oklahoma
Residency, Pediatrics, University of Oklahoma, Oklahoma City, Oklahoma
Fellowship, Pediatric Pulmonology, University of Wisconsin, Madison, Wisconsin
Professional Activities
Dr. Michael Rock is professor (CHS) in the Division of Pulmonology and Sleep Medicine with an interest in cystic fibrosis (CF). He has served as the director of the University of Wisconsin CF Center since 1995. On a national level, Rock has participated in the CF Foundation Center Committee. Locally, his leadership has resulted in the UW–Madison CF Center joining  the CF Foundation Therapeutics Development Network. Rock has led this site in many observational and interventional studies.
Clinical Interests
Rock is interested in all aspects of cystic fibrosis. He has a special interest in newborn screening, clinical trials and quality improvement.
Research Interests
The Rock Research Group conducts clinical trials. Specific studies have varied from pancreatic enzyme therapy to new inhaled medications to modulator therapy of the basic defect in CF. Rock also participates in investigator-initiated studies, including developing a new technology for sweat testing and observing the effects of early nutrition on infants with CF.