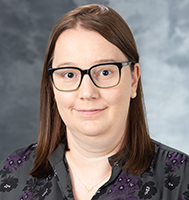 The Texas-based non-profit organization Elijah's Project for Hope has awarded Bryn Webb, MD, a two-year research grant in the amount of $282,553 to investigate a rare genetic disorder that results from mutations in the WARS2 gene. The research period is January 1, 2023, through December 31, 2024. Webb is an associate professor in the Division of Genetics and Metabolism in the Department of Pediatrics at the University of Wisconsin School of Medicine and Public Health.
The neurological disease caused by WARS2 gene mutations affects children and impairs their ability to synthesize tryptophan-tRNA, which is required to produce proteins in the mitochondria. The disorder is known to manifest early in life, typically in the first year, and causes profound global developmental delay, lack of control of body movement (ataxia), and tremors. Lactic acidosis, intellectual disability, and epilepsy may also be present. The abnormal movements are similar to an early onset form of Parkinson's disease.
Mitochondria are crucial for many physiological processes and are often referred to as the  "power houses" of the cell, generating chemicals that are the primary energy source for most biochemical and physiological processes. Muscle contraction, nerve impulse transmission, and protein synthesis are just a few essential functions that rely heavily on the mitochondria. WARS2, one of 19 mitochondrial aminoacyl tRNA synthetases, is critical for the mitochondria to perform these functions. Mutations in all 19 of these synthetase enzymes have been linked to human disease.
Because so few people have been diagnosed with disease caused by WARS2 mutations — worldwide there are fewer than 50 known cases — it is considered an ultra-rare disease by many medical and scientific communities. The U.S. Food and Drug Administration defines a rare disease as one that affects fewer than 200,000 people in the United States. Because of this, there is little institutional research conducted to learn more about it or to develop treatments.
Webb is a physician–scientist with a focus on pediatric genetic disease. She completed her combined residency in pediatrics and medical genetics at the Icahn School of Medicine at Mount Sinai in New York City, as well as a fellowship in clinical molecular genetics at the same institution. In her earlier research, she identified a similar disease caused by mutations in MARS2 in children presenting with developmental delay, poor growth, and hearing loss. That study was published in Human Mutation in 2015.
The Elijah's Project for Hope organization was created in part to seek out researchers willing to study WARS2. Its initiator, Eric Williams, attended a symposium where Webb presented on MARS2, a related gene. The work she presented aligned with his vision for the first research project for Elijah's Project for Hope. He contacted her about the feasibility of studying WARS2, and she was immediately interested.
The goal of the new research project is to develop three transgenic mouse lines that contain different WARS2 mutations present in patients with differing disease severity. Webb and her research team will breed the mice, compare them to normal mice, and perform various tissue tests, including RNA sequencing to determine if there are genes expressed in various tissues in unusual ways. Her work will contribute enormously to knowledge about disease caused by WARS2 mutations. The new mouse model will be instrumental in testing possible new therapies.
Elijah's Project for Hope's website provides extensive information about the disorder, about the children affected, as well as how individuals may contribute to research. Although large pharmaceutical companies may not be persuaded to conduct research for rare diseases such as this disorder caused by WARS2 mutations, ongoing study can continue with donations from interested, compassionate people.