Q&A with Mary Wiesen, MSN, RN, CPNP, pediatric nurse practitioner in the Division of Nephrology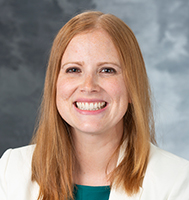 Hometown: Fond du Lac, Wisconsin
Educational/professional background: I have a BS from UW–Madison and an MSN from Marquette University in Milwaukee, Wisconsin.
What inspired you to pursue a career in nursing? Both of my parents worked in health care, and I grew up seeing their impact on others. I always wanted to work with children, and I loved science, so I found a career that combined both of those passions.
How would you describe your work to a 5-year-old? I help children who are sick feel better.
What attracted you to UW–Madison or UW Health? I love Madison and enjoyed living here during my college years. I love the people in this area and my three siblings live here! I also love the many ways you can get involved in the community.
What is your favorite thing to do in Madison? Enjoy the many trails the city has to offer with my family.
What's one thing you hope trainees and students will learn from you and your work? That I am constantly evolving as a provider. It is so important to know what you don't know, and while one can work to become an expert in any field, an expert does not mean that you know all there is to know — because there is always so much more to learn! I also hope they take away that I care deeply for each patient and family and truly believe in patient-centered care.
What are some of your hobbies and other interests? I love to read and spend time with my family and friends.