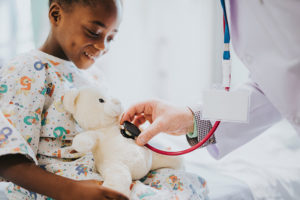 Each year, Doctor's Day is celebrated nationally on March 30. In honor of the occasion, UW Health offered people the opportunity to submit notes of gratitude to their physicians. Department of Pediatrics providers received 145 messages of appreciation from patients and colleagues. Below is a sample of some of the messages.
For Christina Amend, MD: Thank you for all of your wonderful care of my daughter. I never imagined my child would be diagnosed with cancer, but I'm happy that we have you (and your wonderful team) working on her behalf. I imagine it can't be easy to see children with life-threatening illnesses every day, but the work you do is exceptional and very much appreciated.
For Britt Allen, MD: We appreciate your passionate and inclusive approach to caring for our children! Thanks for all you do! We are so fortunate to have you at UW!
For Aaron Carrel, MD: Our daughter has been seeing Dr. Carrel for about eight years. He is seriously one of the best! He makes sure not only I understand but that my daughter understands too. He goes above and beyond for his patients. When my daughter has labs drawn every 4-6 months, he knows it is a source of worry for us waiting for the results to come back. He always gets back to us with them right away and talks about the plan going forward. He is so kind and patient. Truly a one-of-a-kind doctor. He is great at what he does and we are lucky to have him as our endocrinologist!
For Cristina Delgadillo, MD: Thank you for being a champion of early literacy and building strong parent-child relationships through Reach Out and Read. Because of your work more kids in our community have access to high-quality books, parents are empowered as their child's first teacher, and families are building bonds that will create positive impact for years to come.
For Katryn N. Furuya, MD: Thank you for your continued care and advocacy for our daughter! We are so lucky to have you on her team!
For Allison Redpath Mahon, MD: You are one of the most compassionate physicians I know. We are so fortunate to have you in pediatric nephrology. You are amazing in all of the hard work and dedication you do for the pediatric dialysis program. I also really appreciate all you have done to mentor me.
For Kirstin Nackers, MD: Thank you for all the care you put into helping our students flourish and for supporting us to be better educators ourselves. We appreciate you and hope you have a great day.
For Megan Neuman, MD: My son's amazing pediatrician, Dr. Megan Neuman, has been on a roller coaster ride with us this past month as we have been narrowing in on a diagnosis for his seemingly unrelated symptoms. She has been tirelessly pursuing leads, doing research, collaborating with associate department doctors, and poring through his test results. Her communication with me has been top notch and never once have I felt like we fell off her radar. It has been a time of high stress and uncertainty for our family, and she has been patient and thorough all the way through. She is a true class act, and we're incredibly grateful for her personalized approach and unfailing care.
For Daniel O'Connell, MD: Dr. O'Connell has been an absolute lifesaver. When our world seemed dark with GI issues our son had been having for years, we came to him stressed, exhausted, and at a loss. He was kind and patient. He listened to us, and together we came up with a plan. Things that other providers overlooked, he did not. We got some answers and started our son on some medications. It has honestly been life-changing.
For Jeffrey Sleeth, MD: Thank you for always giving our family such wonderful care! You are so attentive and thorough, you never make us feel rushed, and you show compassion for whatever it is we are going through. I appreciate that we never feel like "one of many" patients that you are seeing for the day — you give us your full attention and ask all the questions to get to the bottom of things. You have a calming presence that helps put the kids at ease. I have also noticed and admire your patience with students/residents and find it very encouraging that the next generation of doctors is receiving training from you. We appreciate you so much!