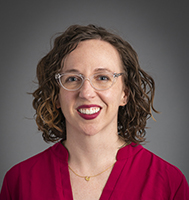 Education
BS, University of Wisconsin–Madison, Madison, Wisconsin
MD, University of Wisconsin School of Medicine and Public Health, Madison, Wisconsin
Residency, Pediatrics, University of Wisconsin, Madison, Wisconsin
Professional Activities
Dr. Kirstin Nackers is associate professor (CHS) in the Division of Hospital Medicine and Complex Care. She enjoys engaging with families to help them understand their child's condition(s) and empowering them to continue effective care after they leave the hospital. Nackers is the director of pediatric medical student education, overseeing and assisting medical student education in the Department of Pediatrics and advising students pursuing pediatric residency training. She is also the integrated block leader for Care Across the Life Cycle, a required, integrated clinical block that includes the core clinical rotations in pediatrics and obstetrics and gynecology for all medical students. Nackers served as co-leader of the Learning Technology Task Force for the Council on Medical Student Education in Pediatrics and is the senior director and editor-in-chief of Aquifer Pediatrics, a virtual case series for health professional students.
Clinical Interests
Nackers' clinical work focuses on coordinating the care of hospitalized pediatric patients.
Research Interests
Nackers' academic pursuits center on medical student education and the thoughtful implementation of learning technologies.