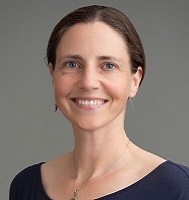 Education
BA, University of Wisconsin–Madison, Madison, Wisconsin
MD, University of Wisconsin School of Medicine and Public Health, Madison, Wisconsin
Residency, Pediatrics, Oregon Health and Science University, Portland, Oregon
Professional Activities
Dr. Megan Neuman is a clinical associate professor and service chief in the Division of General Pediatrics and Adolescent Medicine. She has served in various clinical leadership positions, including on the medical informatics team. Her professional activities are informed by her commitment to serving children and families in need. 
Clinical Interests
Neuman is a pediatrician with expertise in outpatient care across the pediatric age spectrum, with a particular interest in newborn care and breastfeeding support. In addition, she is dedicated to improving the patient and family experience in the health care system, as well as resident primary care experiences.
Research Interests
Neuman's research focuses on bolstering resident training in primary care and electronic medical records (EMR) efficiencies. She also investigates the impact of systemic improvements and clinician wellness on provider and patient outcomes.