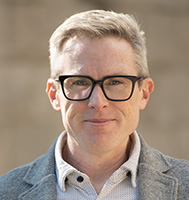 Education
BA, University of Notre Dame, Notre Dame, Indiana
MD, Ohio State University College of Medicine, Columbus, Ohio
Residency, Combined Internal Medicine and Pediatrics, University of Michigan, Ann Arbor, Michigan
Chief Residency, University of Michigan, Ann Arbor, Michigan
Fellowship, Gastroenterology, Robert H. Lurie Children's Hospital, Chicago, Illinois
MS in Clinical Investigation, Northwestern University, Evanston, Illinois
Professional Activities
Dr. Daniel M. O'Connell is associate professor (CHS) and interim chief in the Division of Gastroenterology, Hepatology, and Nutrition. He is a pediatric gastroenterologist with a clinical, research, and quality improvement interest in inflammatory bowel diseases (IBD). O'Connell is actively involved in research projects with medical students and residents investigating multiple pediatric GI diseases. Additionally, he serves as medical director of the Pediatric Specialty Clinics at UW Health Kids. In this role, he leads over 125 physicians and advanced practice providers (APPs) in operational aspects of ambulatory specialty care. On an international level, O'Connell is principal investigator of ImproveCareNow, a multidisciplinary collaborative in pediatric IBD.  
Clinical Interests
O'Connell is a pediatric gastroenterologist with clinical interests and expertise in pediatric IBD, celiac disease, and general growth and nutrition issues in children and adolescents.
Research Interests
O'Connell's research explores the intersection of quality- and value-based care in areas including IBD and celiac disease. He has been involved in clinical trials for novel therapeutics in pediatric IBD.