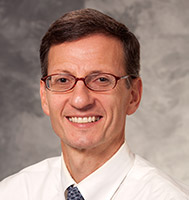 Education
BS, Union College, Schenectady, New York
MD, University of Buffalo School of Medicine, Buffalo, New York
Residency, Pediatrics, University of Wisconsin, Madison, Wisconsin
Fellowship, Pediatric Endocrinology, University of Wisconsin, Madison, Wisconsin
Professional Activities
Dr. Aaron Carrel is professor (CHS) in the Division of Endocrinology and Diabetes. He serves as medical director of the Pediatric Fitness Clinic. Carrel is committed to mentorship and research related to obesity and cardiovascular fitness. Previously, he served for six years on the University of Wisconsin Pediatric Fitness Advisory Board.
Clinical Interests
Carrel works in both the Pediatric Endocrine and Pediatric Fitness clinics and is interested in childhood growth and weight disturbances. In addition, he investigates strategies to improve cardiovascular fitness and Prader-Willi syndrome.
Research Interests
The projects in the Carrel Research Group address the relationship between obesity and body composition, cardiovascular fitness, and the development of insulin resistance in children. This work began with a study of the genetic form of obesity, Prader-Willi syndrome.