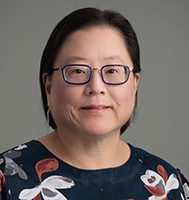 Education
MD, University of Toronto, Toronto, Ontario, Canada
Residency, Pediatrics, Hospital for Sick Children, Toronto, Ontario, Canada
Fellowship, Pediatric Gastroenterology, Hospital for Sick Children, Toronto, Ontario, Canada
Fellowship, Research, Hospital for Sick Children, Toronto, Ontario, Canada
Post-doctoral Fellowship, St. Jude Children's Research Hospital, Memphis, Tennessee 
Professional Activities
Dr. Katryn Furuya is professor (CHS) in the Division of Pediatric Gastroenterology, Hepatology, and Nutrition and the medical director of the Pediatric Liver Transplant Program. She serves as the chair of the Research Committee for the Society for Pediatric Liver Transplantation (SPLIT- 2021-2023); here, she is also a member of the Advisory Committee. Nationally, Furuya is an active member of the  American Liver Foundation, the American Association for the Study of Liver Disease, and the North American Society for Pediatric Gastroenterology, Hepatology and Nutrition (NASPGHAN). Furuya has been chosen as a reviewer for journals such as Hepatology, Pediatric Transplantation, Pediatric Research, Liver International, American Journal of Transplantation, and the Journal of Pediatric Gastroenterology and Nutrition. Additionally, she has been selected for numerous awards for her clinical expertise and contributions. Examples include the Thomas V.N. Ballantine Award Outstanding Teacher of the Year from Pennsylvania State University College of Medicine Department of Pediatrics, the Clinical Science Young Investigator Award from NASGPHAN, and the American Liver Foundation Fellow Research Prize.  
Clinical Interests
Furuya is a pediatric hepatologist and gastroenterologist interested in pediatric liver disease, pediatric liver transplant, biliary atresia, nonalcoholic fatty liver disease (NAFLD/NASH), and metabolic liver disease. She was instrumental in implementing the pediatric FibroScan program at American Family Children's Hospital; these scans assess the amount of fat and fibrosis in the livers of pediatric liver disease patients.  
Research Interests
Furuya's research encompasses pediatric liver diseases including hepatic fibrinogen storage disease, lysosomal acid lipase deficiency, primary sclerosing cholangitis, NAFLD/NASH.