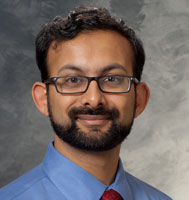 The Josiah Macy Jr. Foundation announced its inaugural Catalyst Awards for Transformation in Graduate Medical Education on January 10. Two faculty members of the Department of Pediatrics, co-principal investigators, received an award: Sushant Srinivasan, MD, MHPE, associate professor in the Division of Critical Care and medical director for the UW Health Clinical Simulation Program, and Emily Ruedinger, MD, MEd, assistant professor, Division of General Pediatrics and Adolescent Medicine, and associate program director for the University of Wisconsin Pediatric Residency Program, leading the residency program's Education for CHANGE social justice curriculum and the PUBLISH pathway.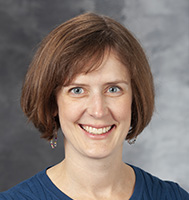 "Grant support for research in medical education is extremely limited, and the Josiah Macy Jr. Foundation provides a substantial amount of that funding," Srinivasan said. "We feel very fortunate and honored to be selected for this award supporting our research project."
Their winning project, "Simulation-based Microaggressions Training for Residents and Faculty," is innovative and its goals are ambitious. Srinivasan and Ruedinger, along with their four-member research team, will have a year to conduct their study. "We intend to use simulation to teach residents and faculty to quickly recognize and respond to microaggressions in clinical situations," Srinivasan explained. "We expect the simulation methodology will be more effective than the usual classroom discussions."
The Catalyst Awards for Transformation in Graduate Medical Education are intended to support interventions in the clinical learning environment that enhance graduate medical education and improve the experience of learners. Each of the seven recipients will receive an award of $50,000 for one year to implement innovative projects that support civility, psychological safety, and thriving in the clinical learning environment for residents and fellows. All seven projects focus on a similar theme in supporting GME learners in managing microaggressions in the clinical learning environment. Different strategies, including simulation experiences, upstander training, peer mentoring, and chief resident preparation, are employed. Together, these seven projects will create a community of practice to address this significant problem and improve the experience of residents and fellows.
"The Macy Foundation is delighted to support Drs. Emily Ruedinger and Sushant Srinivasan for their innovative use of simulation training to help residents manage microaggressions in the clinical learning environment," said Dr. Holly J. Humphrey, president of the Josiah Macy Jr. Foundation. "Learning how to respond to such incidents in real time is key to supporting a culture of safety and respect and ensuring that all learners have the opportunity to thrive. We look forward to learning with them over the next year."
Founded in 1930, the Josiah Macy Jr. Foundation is the only national foundation dedicated solely to improving the education of health professionals. The foundation's website notes that systematic inequities limit career advancement and satisfaction of health professionals from historically underrepresented communities.
Microaggressions are one manifestation of these inequities. They are verbal and nonverbal slights, intentional or unintentional, that communicate bias toward a marginalized person or group. Srinivasan explained, "Though seemingly trivial, microaggressions target the recipient as different, inferior, out of place, or lacking authority."
Investigations show that these utterances and actions cause harm to those receiving them, especially long term. Fifty years of research support these findings, yet microaggressions persist in many fields, including the health care professions.
When a health care professional encounters a microaggression, either as a recipient or a bystander, they can be taken aback, unsure of how to respond or even whether to respond. As health care institutions strive to recruit and retain workforce members whose identities and lived experiences better reflect those of the patients they serve, addressing this issue is urgent and necessary.
Both of the co-principal investigators of this research project are well-prepared and well-suited for the endeavor. Since 2011, Srinivasan has worked within the Department of Pediatrics Division of Critical Care, directing and contributing to many aspects of resident education. He became director of the UW Health Clinical Simulation Program in April 2022. His education, first in biology and psychology at Harvard, then in the study of clinical neuroscience at University College of London, was followed by medical school at the University of Massachusetts. Srinivasan completed his residency in internal medicine and pediatrics at the University of Michigan, Ann Arbor. He possesses a solid foundation in the physiological and psychological aspects of the issues and brings his robust experience in medical education to this endeavor, having also obtained a Master of Health Professions Education from the University of Illinois-Chicago.
For this project, Srinivasan is joined by his co-principal investigator, Ruedinger, whose undergraduate degree is in elementary education. She opted to attend medical school rather than teach, completing both programs at the University of Wisconsin. After completing her pediatric residency at the Boston Combined Residency Program at Boston Children's Hospital and Boston Medical Center, Ruedinger completed her fellowship in adolescent medicine, at Boston Children's Hospital and the University of Minnesota. She followed that with an MEd in medical education at the University of Cincinnati. With a scholarly focus on curricular innovations to educate physicians on the topic of provider bias, her most recent work has examined the premise that the health professions perpetuate biases based on notions of race, sex, weight bias, gender norms, sexual preference, and other biases arising from perceptions of difference. Consequently, Ruedinger brings a broad and nuanced understanding to this study of microaggressions in healthcare settings and their possible remedy.
The research team also includes four co-investigators associated with the UW Health organization and the University of Wisconsin School of Medicine and Public Health. Haroon Ali, MD, is a pediatric hospital medicine fellow; Naomi Takahashi, MSW, LCSW, is director of Diversity, Equity and Inclusion at UW School of Medicine and Public Health; Shiva Bidar-Sielaff, MA, CDM, is associate dean for Diversity and Equity Transformation at the UW School of Medicine and Public Health and vice president of Diversity, Equity, and Inclusion at UW Health; Shannon DiMarco, MSHS, CHSOS, is administrative director at the UW Health Clinical Simulation Program.
Ruedinger described the project as arising from deficiencies in current training. "Current classroom approaches focused on cognitive learning and low realism simulations can't adequately prepare trainees and faculty to intervene in the real world when a microaggression occurs," Ruedinger explained. "These situations are necessarily fraught, and the person targeted may experience emotional numbing or hyperarousal, especially in the face of repeated offenses."
Through experiential learning with the use of high-realism clinical simulation, residents and faculty will learn to recognize and then practice potential responses in situations that feel like real exchanges with patients or staff who commit microaggressions. With the overall goal to work to create a culture in medicine where the burden of response is more equitably distributed, and vigorous support for one another is universal, the project aims to create an educational intervention that will address and improve these areas:
Confidence and ability to respond to microaggressions by trainees and faculty
Perception of culture/institutional support by trainees and faculty
Confidence and ability for faculty to support trainees in responding to microaggressions
Ruedinger further explained that UW Health and the University of Wisconsin School of Medicine and Public Health have policies and guidelines in place that explicitly state that learners, staff, and faculty do not have to tolerate harassment, mistreatment, bias, discrimination, or disrespect. "It's important to know that you won't be penalized if you address microaggressions, even when committed by a patient or a superior," Ruedinger said.
"Culture change takes time," she added, "and change will only happen if people at all levels of an organization are on board."
Projects like this demonstrate that our department, medical school, and health care institution are committed to making continued strides toward greater diversity, equity, and inclusion.
The project will commence February 2023 and continue through January 2024. Department members interested in participating in the simulation trainings can email Emily Ruedinger.