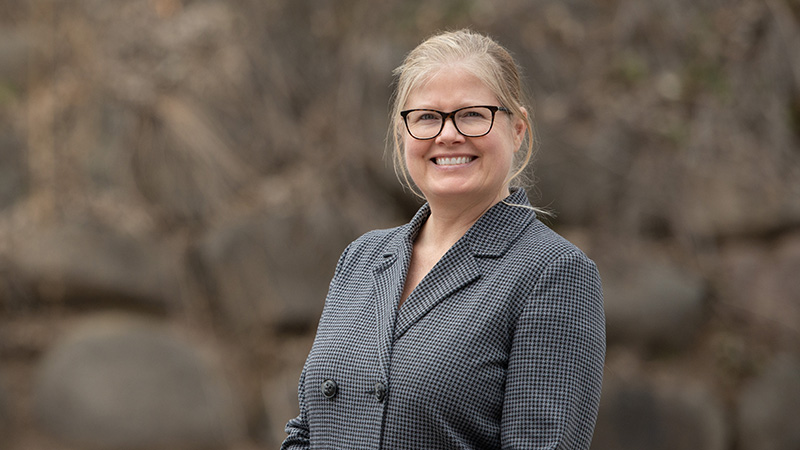 The Department of Pediatrics at the University of Wisconsin School of Medicine and Public Health welcomed in the new year with a new interim chair. Megan A. Moreno, MD, MSEd, MPH, vice chair of academic affairs and professor, Division of General Pediatrics and Adolescent Health, and adjunct professor in the Department of Educational Psychology, began her tenure as the department's interim chair on January 1. Moreno previously served as the academic chief of the Division of General Pediatrics and Adolescent Medicine.
The outgoing chair, Ellen Wald, MD, professor, Division of Infectious Diseases, stepped away from the Department of Pediatrics chair position on December 31, 2022, after 17 years.
"What has been most inspiring to me about Dr. Wald's leadership is her role modeling: she was able to get all of us, a large and diverse group, all centered on the same issue of child health," Moreno said. "I also admire her enormous and — yes, it's a pun —infectious curiosity. She can get everyone excited about being curious."
Moreno intends to carry on that tradition of curiosity. She is intent on familiarizing herself with the department's inner complexities and outer reaches. "I plan on traveling and spending some time getting to know the other clinical pediatric spaces," Moreno noted. "I plan to visit Meriter and some of the other American Family Children's Hospital clinical units, as well as Rockford and other regional sites."
Moreno has a long history with the University of Wisconsin Department of Pediatrics. She served her pediatric residency here from 2000 to 2003 and was chief resident in 2004. A fellowship in adolescent medicine and STD/HIV research took her to the University of Washington, where she subsequently served as an inpatient pediatric hospitalist. She returned to the University of Wisconsin in 2008 for four years as a faculty member in the Division of General Pediatrics and Adolescent Medicine. Then, from 2012 to 2017, she held a faculty position in the University of Washington Department of Pediatrics before rejoining the UW School of Medicine and Public Health Department of Pediatrics in 2017.
Dr. Moreno's research focuses on social media as a complex and potent influence in adolescent health — from beneficial to challenging to even hazardous. Dr. Moreno's team is the Social Media and Adolescent Health Research Team (SMAHRT), a multidisciplinary group that strives to advance society's understanding of the relationship between media and adolescent health. One program within SMAHRT is the Technology and Adolescent Mental Wellness (TAM) Program, a national collaboration focused on advancing the science and learning around this topic. This program was funded through philanthropy and includes a Youth Advisory Board.
Social media is ubiquitous, unescapable; consequently, SMAHRT has become a research powerhouse, investigating scores of aspects of social media's influence. It has published, to date, 190 articles in national and international journals investigating its effects. This timely research addresses new and pressing issues in adolescent health that have emerged as adolescents spend ever more time on social media. The research team has investigated and published many reports on social media technology use and misuse, online safety, and effects of social media on adolescent health. In January 2022, a SMAHRT study was published in the Journal of Studies on Alcohol and Drugs regarding online cannabis advertising examined from four states (Alaska, Colorado, Oregon, and Washington State) in which marijuana is legal. Some online advertising clearly appealed to a vulnerable — underage — audience, contrary to state-based marketing regulations. "SMAHRT doesn't hold an opinion or a political viewpoint," Moreno explained. "As clinicians and researchers, we follow the data. If the data indicate apparent targeting and manipulation of an underage audience, we report that in our findings."
Moreno's insight, focus, dedication, leadership, and prodigious efforts in adolescent health and social media research have resulted in her being awarded dozens of honors, including an American Academy of Pediatrics (AAP) Council of Communications and Media's Holroyd-Sherry Award for Career Achievement (2020), an American Pediatrics Society Norman J. Siegel New Member Outstanding Science Award (2022), and a UW–Madison WARF Kellett Mid-Career Fellowship (2021). In addition, nationally, she has been appointed co-medical director of the AAP Center of Excellence: Creating a Healthy Digital Ecosystem for Children and Youth. She has been a reviewer for more than 30 journals in the fields of pediatrics, adolescent health, medical education, digital health, behavioral health, and public health. Further, she currently serves as associate editor of JAMA Pediatrics and is an editorial board member for the Journal of Adolescent Health.
In a recent interview, Moreno was thoughtful and enthusiastic discussing her perceptions and developing expectations regarding her vision and work as interim chair — a position that many would describe as requiring no stray steps outside the dictum "continue forward, no surprises." While an interim chairperson is expected to stick to the current path, Moreno sees the situation as an opportunity to closely examine the internal workings of the organization, as well as to continue tending to external relationships — maintaining and strengthening them.
"We have the opportunity to reflect, to examine, for example, our department procedures. We've grown so much, it's possible that there may be some processes we've outgrown. This interim time can allow us to try out new things — consider it pilot testing — to learn how some changes may better serve us as an organization," Moreno explained.
"We must also maintain our ongoing relationships, with the medical school, with UW Health: those organizations continue moving forward, and we must move forward with them," she continued. "I think the nuance and the balance of this role can allow us to focus on the present, even though we all know that the future is rushing toward us. We also have the huge advantage of being in a very strong place as an organization. I believe we will be able to welcome an eventual new chairperson with even greater internal cohesion and optimal external relationships."