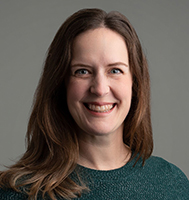 Education
BS, University of Wisconsin–Madison, Madison, Wisconsin
MD, University of Wisconsin School of Medicine and Public Health, Madison, Wisconsin
Residency, Pediatrics, Harvard University and Boston University, Boston, Massachusetts
Fellowship, Adolescent Medicine, Boston Children's Hospital, Boston, Massachusetts
Fellowship, Adolescent Medicine, University of Minnesota, Minneapolis, Minnesota
MEd, University of Cincinnati, Cincinnati, Ohio
Professional Activities
Dr. Emily Ruedinger is associate professor (CHS) in the Division of General Pediatrics and Adolescent Medicine. She is also an associate program director for the pediatric residency program, leading the residency program's Education for CHANGE social justice curriculum as well as the PUBLISH pathway. She is committed to using her expertise in curriculum development and evaluation to advance health equity through provider education. Ruedinger is involved in numerous departmental initiatives, serving as a member of the  Inclusion, Diversity, Equity, Accessibility and Anti-Racism (IDEAA) Education Sub-Committee and the Pediatric Grand Rounds committee, as well as co-chair of Research Week. Outside of her local involvement, Ruedinger is active in national curriculum development efforts. Some examples include Aquifer cases for medical students, the Society for Adolescent Health and Medicine's (SAHM) development of a national adolescent medicine curriculum, and activities with the Association of Pediatric Program Directors (APPD). 
Clinical Interests
Ruedinger is an adolescent medicine specialist, focusing especially on care for youth with eating disorders, mental health concerns, and non-surgical gynecological issues. She especially enjoys supporting families and patients as they navigate the many developmental changes that occur from infancy through young adulthood. She is an expert on eating disorders, non-surgical reproductive healthcare, adolescent development, and diversity, equity, and inclusion related education.
Research Interests
Ruedinger's research focuses on provider-level curricular innovations related to social justice, health equity, diversity and inclusion. She is particularly interested in the development, evaluation and dissemination of educational content that equips physicians to become effective change-makers through clinical care, advocacy, research, education, and leadership.