Sushant Srinivasan, MD, MHPE
Position title: Associate Professor
Address:
Division of Critical Care
For Academic Inquiries: (608) 263-6878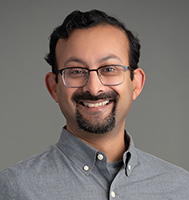 Education
BA, Harvard University, Cambridge, Massachusetts
MD, University of Massachusetts Medical School, Worcester, Massachusetts
Residency, Internal Medicine-Pediatrics, University of Michigan, Ann Arbor, Michigan
Fellowship, Pediatric Critical Care, University of Michigan, Ann Arbor, Michigan
MHPE (Master of Health Professions Education), University of Illinois-Chicago, Chicago, Illinois
Professional Activities
Dr. Sushant Srinivasan is associate professor (CHS) in the Division of Critical Care. He serves as medical director of the UW Health Clinical Simulation Program, which facilitates and provides simulation-based education throughout UW Health and the University of Wisconsin School of Medicine and Public Health. Previously, Srinivasan was program director for the UW Pediatric Critical Care Fellowship. Beyond UW, he is active in several organizations, including the Society for Simulation Healthcare as former chair of the critical care section.
Clinical Interests
Srinivasan is an attending physician in the pediatric intensive care unit, as well as the pediatric sedation clinic. His clinical interests include resuscitation, ECMO, sedation, and the impact of education on clinical care.
Research Interests
Srinivasan's research interests are in medical education and simulation. Within these areas, he is interested in novel curricula to enhance resident and fellow training, including the use of qualitative methods and simulation debriefing methods. Srinivasan is also interested in faculty development to enhance research in medical education and simulation.