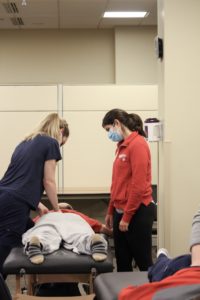 This optional pathway provides pediatric Osteopathic (DO) residents a structured mechanism to maintain and perfect skills in Osteopathic Manipulative Medicine while completing the requirements of pediatric residency training. The three-year longitudinal pathway operates in collaboration with the University of Wisconsin Department of Family Medicine and Community Health. Involvement in pathway activities during the PGY-1 year is permissible but is often limited due to the demands of the intern schedule. Participation in the pathway intensifies during the PGY-2 and PGY-3 years.
Goals
Provide opportunities to study, review, and practice Osteopathic Manipulative Treatment (OMT)

 

Collaborate with Osteopathic physicians across specialties to promote enhanced exposure to Osteopathic principles and practice and foster mentorship

 

Provide dedicated OMT clinic experiences to refine skills and increase confidence in performing OMT

 

Consider how Osteopathic principles and treatment may be incorporated into each patient encounter

 
Resident Expectations*
Plan to start using OMT skills during the PGY-1 year in continuity clinic and other clinical settings where appropriate. Successfully complete the OMT Competency Evaluation prior to performing OMT during residency. 

 

Complete 6 OMT sessions per year in OMT clinic in PGY-2 and PGY-3 years.

 

Perform and document a minimum of 25 OMT encounters in years PGY-2 and PGY-3 for a total of 50 OMT encounters.

 

Complete an Osteopathic scholarly project. Present an evidence-based case presentation at one of the Statewide OMT conferences (unless requirements are met through another approved scholarly project). 

 

Attend at least three Statewide Osteopathic Collaborative Quarterly OMT conferences per year starting in years PGY-2 and PGY-3. 

 

PGY-2 and PGY-3 residents will facilitate annual OMT PEARL session and Intern Morning Report to educate fellow pediatric residents. 

 

Attend at least 50% of the monthly Wisconsin Osteopathic Research and Discussion (WORD) sessions in the PGY-2 and PGY-3 years.

 
*PGY-1 residents are also welcome to participate in all activities as their intern schedule allows. 
Meet with the Pediatric OMM Pathway Director at least two times per year for review of progress. 

 

Obtain OMT evaluation by DO faculty and a patient at least twice every six months during PGY-2 and PGY-3 years.

 

Maintain current membership in the American Osteopathic Association, the American Academy of Pediatrics' Section on Osteopathic Pediatricians, and the American College of Osteopathic Pediatricians.

 

Complete evaluations of the Pediatric OMM Pathway and Statewide Conference evaluations. 

 

FAQs
Q: I have an MD degree. Can I join the Pediatric OMM Pathway?
A: The pediatric OMM pathway is designed for DO trained residents who start residency with at least 2 years of OMM experience. This knowledge differential will put an MD resident at a disadvantage when participating in the teaching sessions with the statewide collaborative. There are certain other activities that MD residents are welcome to participate in but will unfortunately not be able to officially join the pathway.
Q: What if I want to participate in OMM activities but I don't want to join the pathway?
A: This is a voluntary pathway. You can participate in activities without being on the pathway officially, but you will not be able to receive all of the benefits of being on the pathway.
Q: Is the educational content of the Statewide Osteopathic Collaborative Quarterly OMT conferences relevant to pediatrics?
A: The statewide meetings are attended by residents and faculty in family medicine, pediatrics and other specialties. There is a dedicated pediatric conference in the curriculum once every 3 years. Pediatric content and cases with pediatric applications are included at all of the conferences.
Q: How will I have time to practice OMT while I am a busy resident?
A: You can perform OMT in your continuity clinic and other clinical settings were indicated. There are also OMT tables purchased by the Pediatric residency program. You can practice your skills on each other whenever you like. The more you practice, the more confident you will become.
For additional questions, feel free to contact the OMM Pathway Directors:
How to Apply
Shortly after match day in March, you will receive an email soliciting interest in applying for additional pathways. There is nothing you need to do prior to match day.
Submit a statement of interest that includes your Name and email Address and addresses the following questions:
What aspects of the Pediatric Osteopathic Manipulative Medicine pathway are most appealing to you?
Do you have an interest in teaching Osteopathic principles and techniques?
What are your goals in participating in the Pediatric Osteopathic Manipulative Medicine Pathway?
The Pediatric Osteopathic Manipulative Medicine Pathway is a three-year longitudinal pathway that begins in the PGY-1 year and intensifies in the PGY-2 and PGY-3 years. Please complete and email the following information to Dr. McGregory, Pathway Director, at mcgregory@wisc.edu if you are interested in participating in the pathway.