American Family Children's Hospital (AFCH, pictured below) in Madison, Wisconsin, is a comprehensive pediatric medical and surgical center featuring nationally recognized pediatric specialists in a wide range of fields. AFCH provides specialized care in a healing environment designed especially for pediatric patients and their families. The hospital is ranked among the top 50 children's hospitals in four medical and surgical specialties in U.S. News and World Report's 2019 Best Children's Hospitals Guide.
This is where residents spend the majority of their resident training both on the inpatient wards and in the subspecialty clinics.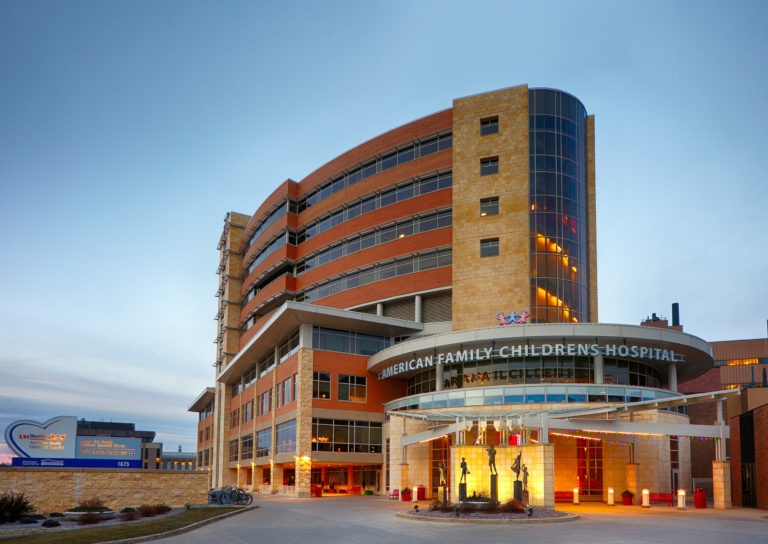 UnityPoint Health–Meriter Hospital is a 448-bed community hospital in Madison that is dedicated to providing comprehensive, coordinated care through their clinics, hospital and home care services for patients located in South Central Wisconsin.
Residents work with University of Wisconsin faculty at UnityPoint Health–Meriter during the neonatal ICU and newborn nursery rotations.
Continuity Clinic Model
Each resident is paired with a preceptor for the duration of training who will serve as longitudinal coach, mentor, and role-model for practice in the community.
This is an accordion element with a series of buttons that open and close related content panels.
UW Health Continuity Clinics
UW Health clinics, located throughout the Madison area, serve the full spectrum of pediatric care from birth through early 20s. Our patients include those who are privately insured as well as those with Medicaid. We care for a diverse population from all racial and ethnic backgrounds. Our staff of over 45 physicians are dedicated to teaching both in and out of the clinic. We see the full spectrum of pediatric care including, but not limited to, the well child, complex medical care, sports medicine, LGBTQ health, behavioral and mental health, asthma and allergies, adolescent health, and more.
Residents will also receive education in quality improvement initiatives and "behind-the-scenes" aspects of managing an outpatient practice. While residents mostly participate in person, residents can engage in telemedicine and video health. Residents receive regular feedback on their performance and are encouraged to take full ownership of their patients.
Our UW sites include:
Continuity Clinic - Community Partner Sites
Located about 10 minutes south of Meriter Hospital or 15 minutes driving time from AFCH
Suburban patient population with a growing Hispanic presence
Busy "private practice" structure
Cares for the full spectrum of ages (birth to 22) and pediatric problems
Located on South Park Street and serves patients for whom living in poverty is a common thread
Nonprofit, fully-funded Federally Qualified Health Center whose major mission is to provide superb, accessible health care to families
Each clinic day is filled with challenge as people face illness, a different culture from their own, or financial despair
The clinic is busy and dynamic
With six primary care clinics located across Madison, this group is a nonprofit, locally managed health cooperative that aims to provide high-quality health care services to 60,000+ members regionally.
This health cooperative model began in the 1970s with people from our community who envisioned a nonprofit, member-owned cooperative that could bring health insurance and healthcare together for the benefit of members.
GHC-SCW staff model clinics are built around multidisciplinary care teams that include Pediatrics, Family Medicine, Internal Medicine, Primary Care Behavioral Health, Psychiatry, Clinical Pharmacy, Community Service Coordinators, Health Education, Dermatology, Sports Medicine, PT/OT, Eye Care, and Complementary Medicine. We closely partner with UW and UPH Meriter for other specialty and tertiary care services.