Named professorships endowed by donors to the University of Wisconsin School of Medicine and Public Health (SMPH) convey both an honor and funds to recipients' research and other endeavors. On October 12, at the Fluno Center, the inaugural SMPH Investiture Celebration honored 32 SMPH faculty members and the philanthropic partners dedicated to supporting Wisconsin Medicine, the philanthropic partnership between UW Health and SMPH.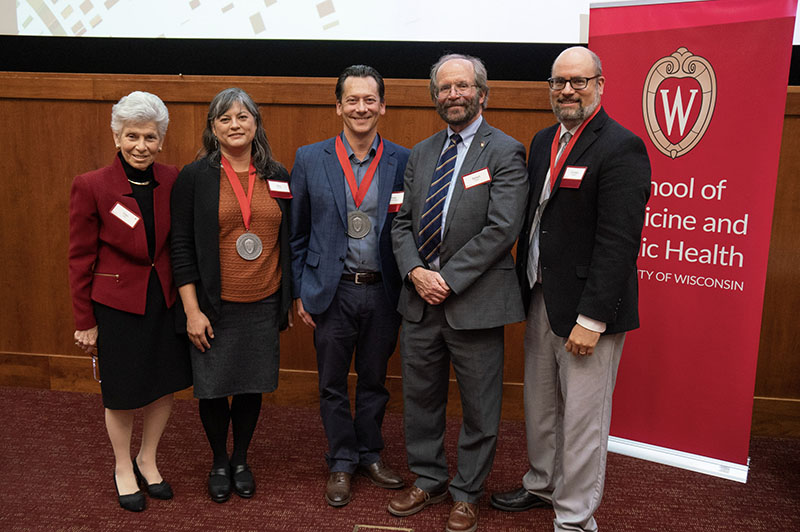 Endowed positions enable the school to recognize and advance faculty members' passionate pursuit to understand, treat, and eventually cure devastating diseases. Further, it allows the school to invest in the next generation of health care leaders. The ceremony both honored the accomplishments of innovative endowed faculty members and recognized the generous philanthropic partners who are intent on making a new era of medicine possible.
Dean Robert N. Golden, MD, offered opening remarks for the event. He presented each selected faculty member with a medallion and plaque representing the honor after the recipients were introduced by their department representatives. Ellen Wald, MD, professor and chair of the Department of Pediatrics, introduced the three members from her department chosen to receive an endowed professorship.
Christian Capitini, MD, associate professor, Division of Hematology, Oncology, and Bone Marrow Transplant, was honored with the five-year Jean R. Finley Professorship in Pediatric Hematology and Oncology. Established through the estate of Jean R. Finley, this professorship supports research in the field of pediatric hematology and oncology.
Capitini and his co-investigator Krishanu Saha, PhD, associate professor, Department of Biomedical Engineering and the Wisconsin Institute of Discovery, were recently awarded a Hyundai Hope Scholar Grant for their project, "CRISPR-edited GD2 CAR T cells for neuroblastoma." The project develops a novel platform to improve the chimeric antigen-receptor (CAR) T response of an important pediatric solid tumor, neuroblastoma.
Mary Ehlenbach, MD, associate professor, Division of Hospital Medicine, was honored with the O'Connor Family Professorship in Pediatrics.* This professorship, established by Dr. Richard and Sheila O'Connor, was established to support ambulatory pediatric health care delivery with an emphasis on the care of children with chronic conditions. O'Connor is a retired clinical assistant professor from the Department of Pediatrics.
Ehlenbach is the inaugural director of diversity, equity, and inclusion for the department and is co-founder and medical director of the Pediatric Complex Care Program at the American Family Children's Hospital. She was also the site principal investigator for a multimillion-dollar, three-year Health Care Innovation Award funded by the Center for Medicare and Medicaid Services, in collaboration with State of Wisconsin Department of Health Services and Children's Hospital of Wisconsin.
Peter Ferrazzano, MD, professor and chief, Division of Critical Care, was honored with the Enid and Jerry Weygandt Professorship in Pediatric Critical Care.* This professorship was established by Jerry and Enid Weygandt to support pediatric critical care within the Department of Pediatrics. Weygandt is professor emeritus of the UW–Madison School of Business.
Ferrazzano provides care in a collaborative and coordinated manner to all critically ill children admitted to American Family Children's Hospital. The division also provides patient care to children and families undergoing sedation for diagnostic and therapeutic procedures and medical imaging. Ferrazzano presented the 2021 Odell Lecture, "Neuroimaging in Pediatric Brain Injury: A Bridge from Bench to Bedside. The Enid and Jerry Weygandt Professor of Pediatric Critical Care"
*These endowments received matching gift support provided by the generosity of John and Tashia Morgridge.