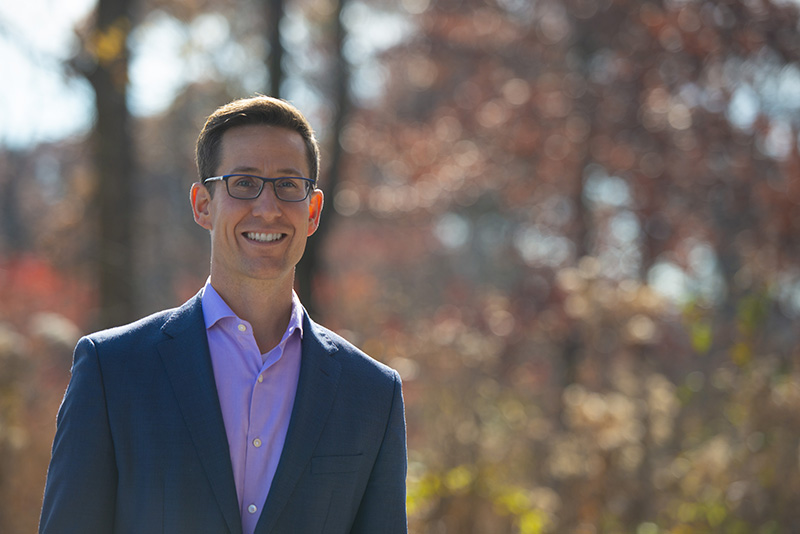 When he was invited to join the University of Wisconsin Department of Pediatrics in 2016, Ryan McAdams, MD, professor and chief, Division of Neonatology and Newborn Nursery, and professor, Division of Global Health, already had long and diverse experience as a neonatologist. In addition to his eight years in Seattle serving as neonatologist with the Department of Pediatrics of the University of Washington, McAdams had served as a neonatologist with the United States Air Force in Okinawa, Japan for three years and he had done humanitarian global health work in Peru, Mongolia, Cambodia, Zambia, Malawi, and Uganda. Through his extensive work with neonates in low-resource countries, McAdams developed the strong conviction — which became the overarching focus of his research group — that "every baby everywhere deserves the best care to allow them to survive and thrive."
As chief of the Division of Neonatology and Newborn Nursery, McAdams spends the usual long hours in the NICU working with other clinicians; teaching students, residents and fellows; and advising the parents of neonates. In addition, he engages in advocacy and research with his research team, addressing social inequities that affect neonates and their parents, such as Wisconsin's high infant mortality rate for Black babies, a project supporting breastfeeding, and The Doula Model of Care among African American women. He has also examined the use of artificial intelligence in predicting NICU outcomes, participated in investigating common serious lung, kidney, and brain conditions that plague preterm neonates, and considered the potential use of virtual reality in pediatric education. McAdams is also well-known for his paintings, an art form he uses to great effect expressing his experience of the reality of widespread inequities in global child health care. His research group page includes links to his many paintings published as medical journal covers and to research article publications and collaborators.
A native of Eau Claire, Wisconsin, McAdams decided to go to medical school for completely pragmatic reasons: his parents' stressful arguments about money were frequent in his childhood household. He decided he needed to choose a profession that would allow him to avoid that stress, and he noticed that one of his grass-mowing customers, a family practice physician, seemed happy and lived comfortably. McAdams loved English and had even started writing poetry, but he entered the University of St. Thomas in St. Paul, Minnesota, to complete a BS in biology as a necessary step toward medical school. Further judicious steps he took as an undergraduate were galvanizing. First, he volunteered at what was then Minnesota's Ramsey County Burn Unit. There, he worked as an aid assisting in the care of people with horrific injuries. Later, he volunteered to be a companion for young man with autism, and he took care of a teenage boy with Fragile X syndrome. "Although he was younger than me, he was much bigger," McAdams recalled. "But I could read him, could tell what worked, what didn't."
It was during these formative years, McAdams said, that he learned about himself. "I learned that I could work with people. I have a heart to help people and can handle the intensity. I could go into medicine to serve people," he said. "That's what I discovered in college: my heart lines up with this, and I can do it for the right reasons — not for the money."
McAdams joined the Air Force after college in order to attend medical school. He considered this step just as intently as he had considered the medical path, being as certain as he could be that he wouldn't have to shoot anybody. "Serving my country seemed like a noble path," he said. "And I, without money for medical school, could become a doctor."
After he earned his MD at the Medical College of Wisconsin, McAdams was a little apprehensive about the Air Force posting him in a foreign country. Despite his fear, he chose to go to Japan rather than Texas after his residency. It was life-changing: he worked as attending staff, neonatology director, and neonatal aeromedical transport director during his three years at a U.S. Naval Hospital in Okinawa, Japan. During that time, he made medical trips to Mongolia, sub-Sahara Africa, and Cambodia, experiences that would change him forever. "I love the purity of helping people and of experiencing other cultures," McAdams explained. "I knew then that I could live anywhere."
In addition, his experiences with neonates in countries without effective health care generated his strong conviction that "every baby everywhere deserves the best care to allow them to survive and thrive." When he was honorably discharged as a Major from the Air Force in 2008, he and his wife chose to live in Washington state. "We thought we should be closer to family, since my wife was pregnant," McAdams said. "Closer" had become a relative term: Washington State was closer to Wisconsin than New Zealand or somewhere similar.
At the University of Washington, McAdams continued his work with collaborators in Uganda, and he started his research in neonatal hypoxic ischemic encephalopathy (HIE). HIE is a condition that results when a perinatal event interferes with perfusion and oxygen delivery to a fetus or newborn. It causes hypoxia, metabolic acidosis, and potential brain damage and is a significant cause of morbidity and mortality for newborns worldwide. That research, with numerous publications, continues today at SMPH. Since 2016, when he was invited to join the University of Wisconsin Department of Pediatrics, McAdams has found many dedicated collaborators in his research endeavors. He is working with one of his colleagues, Claudette Adegboro, MD, assistant professor, Division of Neonatology and Newborn Nursery, on ways of assessing fetal heart rate patterns that may identify fetuses at high risk for HIE.
In his clinical practice, his research, as well as in his painting, McAdams understands the necessity of paying attention: to take the time to really see what is present, rather than assuming what must be there. Recently, he published an article in Pediatric Research addressing the need for medical team members to pay close attention to parents and proactively ask them if they understand medical terms, concepts, and care plans for their baby. In his article "Family-flustered care: a case against jargon in the NICU," McAdams presented the usual scenario of parents being informed of their child's medical situation by clinicians using sentences bristling with medical jargon. Some examples are "NIPPV, clamping down, slit ventricles, base excess, cryo, coags, iCal, TPN, UVC, and 2 MeQs of KCl ": some terms he heard and wrote down at a meeting between a medical team and parents of a hospitalized infant.
Medical team members need to explain their terms in plain English, McAdams noted, avoiding the common situation in which polite parents answer "No" when they are asked if they have any questions — because they did not understand the jargon-laden narrative just directed at them. A parent's reticence should not be assumed to indicate understanding. Paying attention and using language that is free of jargon promotes clarity. "To respectfully include families in rounds, we must strive for better ways to share information with parents that will allow them to actively participate and collaborate in their baby's care," McAdams said. "Avoiding medical jargon is an attainable step toward being more inclusive in the NICU."
Throughout his very full life, McAdams has also been creating paintings. He started painting when he was young: an aunt gave him a set of oil paints. He and his younger brother eventually set up an art studio in a basement during his first year of medical school. As his experience expanded and as he saw more of the world, painting became an outlet for him. "I soon learned that I wouldn't be able to be an artist with gallery representation — an early encounter with the Whitney Museum thoroughly disabused me of that, even though I had won a JAMA  cover competition," McAdams recounted.
He decided instead that he would paint to convey what he saw and felt. If people liked what he created, that would be extra, not the motivation. "My paintings express my experiences and strong feelings about inequities and injustice in health care for babies, children, and their parents in the United States and worldwide," he said. "I hope it communicates that to those who see them."
Over the last decade, McAdams's paintings have appeared on numerous medical journal covers, and his unusual dual identity has resulted in much attention and many interviews. "Painting allows me to process the difficulties and intensity of my clinical practice," McAdams explained. "I strongly recommend it to others in the field: I find it very restorative." A future dream of his is to make use the attention his paintings have generated and create a website offering them in some form that could fund improvements in global infant and child health.