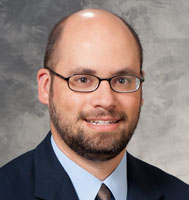 Education
BA, Drew University, Madison, New Jersey 
MD, Rochester School of Medicine and Dentistry, Rochester, New York  
Residency, Pediatrics, University of Minnesota, Minneapolis, Minnesota  
Fellowship, Pediatric Hematology and Oncology, Johns Hopkins University, National Cancer Institute, Baltimore and Bethesda, Maryland  
Fellowship, Pediatric Oncology and Immunology Section, National Cancer Institute, Bethesda, Maryland 
Professional Activities
Dr. Christian Capitini is tenured associate professor and chief in the Division of Hematology, Oncology, and Bone Marrow Transplant and the Jean R. Finley Professor in Pediatric Hematology and Oncology. He serves as co-leader of the Developmental Therapeutics Program at the University of Wisconsin Carbone Cancer Center and director of clinical innovation at the Forward BIO Institute. He has received many awards for his clinical and research contributions, including the Department of Pediatrics Gerard B. Odell Research Award, the Outstanding New Member Science Award from the Society for Pediatric Research (SPR), and the Janet Rowley Award from the Jonas Center Cellular Therapy Symposium at the University of Chicago. Nationally, Capitini is an active member of the Society for Immunotherapy of Cancer (SITC) and serves as at-large director. Additionally, he is section editor for the Journal for Immunotherapy of Cancer and serves on the executive board for the Pediatric Real World chimeric antigen receptor (CAR) T Consortium.
Clinical Interests
Capitini is a pediatric hematologist and oncologist who is active clinically within the Pediatric Bone Marrow Transplant and Cellular Therapy program. In this role, he helps incorporate bone marrow transplants and (CAR) T cells into pediatric clinical care.
Research Interests
Capitini leads an NIH-supported laboratory focusing on development of cell-based immunotherapies, including natural killer (NK) cells and CAR T cells, for the treatment of pediatric solid tumors like neuroblastoma, osteosarcoma, and rhabdomyosarcoma. The Capitini Lab also develops alternatively activated macrophages for complications of bone marrow transplant, including graft-versus-host-disease (GVHD) and acute radiation syndrome. 
Capitini was one of 13 U.S. site principal investigators (PI) for the first multicenter CD19 CAR T cell trial, which led to the FDA approval of tisagenlecleucel-T (Kymriah) for relapsed and refractory B cell leukemia. Currently, he is site PI for a Kymriah trial related to the upfront treatment of high-risk B cell leukemia and for a multicenter GD2 CAR T cell trial investigating neuroblastoma and osteosarcoma treatment through the Pediatric NCI-Cancer Immunotherapy Trials Network (CITN). He is also a sponsor and PI for a University of Wisconsin clinical trial expanding gamma delta T cells in vivo using zoledronate after alpha beta T cell depleted stem cell transplant.