Mary Ehlenbach, MD
Position title: Associate Professor, Director of Diversity, Equity & Inclusion
Address:
Division of Hospital Medicine
For Academic Inquiries: (608) 265-5545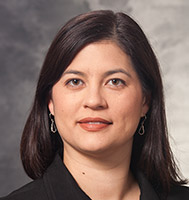 Education
BA, University of Notre Dame, Notre Dame, Indiana
MD, University of Wisconsin School of Medicine and Public Health, Madison, Wisconsin
Residency, Pediatrics, University of Wisconsin, Madison, Wisconsin
Professional Activities
Dr. Mary Ehlenbach is associate professor (CHS) in the Division of Hospital Medicine. She is the medical director of the Pediatric Complex Care Program and director of Diversity, Equity, and Inclusion for the Department of Pediatrics. Ehlenbach's professional interests include optimizing the health, well-being, and experience of care for children with medical complexity. In addition, she is committed to promoting an environment of inclusion, accessibility, equity, and anti-racism within the Department of Pediatrics. She is a member of the steering committee for the University of Wisconsin–Madison chapter of the Association of American Medical Colleges (AAMC) Groups on Women in Medicine and Science and was elected to a two-year term on the University of Wisconsin Hospital and Clinics (UWHC) Medical Board in 2021. Ehlenbach was the inaugural recipient of the Paster Family Foundation Innovation award in 2018, was selected for and completed the UW Health Physician Leadership Development Program in 2019-21, and was named the initial recipient of the O'Connor Family Endowed Professorship in Pediatrics in 2021.
Clinical Interests
After nearly a decade as a pediatric hospitalist, Ehlenbach co-founded the Pediatric Complex Care Program in 2014 with Ryan Coller. She provides mentorship nationally for teams building complex care programs at their own institutions.
Research Interests
Ehlenbach's research focuses on optimizing the health and well-being of children with medical complexity.