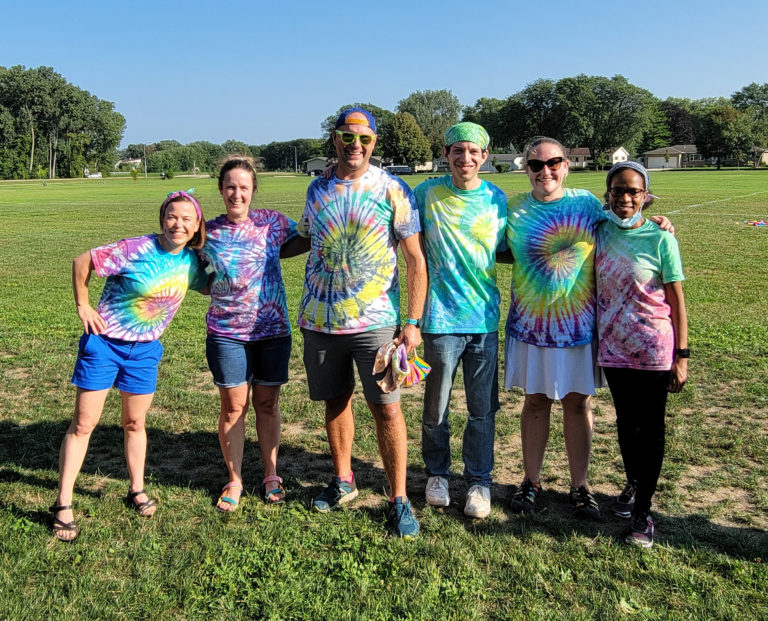 Dan Sklansky, MD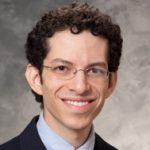 Program Director
Pediatric Hospitalist
"I am a pediatric hospitalist and was an associate program director for 2012 to 2020 before taking becoming the director. I am particularly passionate about teaching and practicing inpatient medicine, but love medicine and medical education in all realms.. My goal is to foster an environment in which residents are encouraged to make decisions, challenged to improve, and supported throughout their training. My vision is to have all of our residents go on to become stellar pediatricians who continue to grow, advocate, and teach in whatever setting they land ranging from academics to private practice and public health to specialty care. I am grateful to be part of an incredible department, leadership group, and residency program and to live in such a fun, thriving, and family-friendly city."
Emily Ruedinger, MD, MEd
Associate Program Director
General Pediatrics and Adolescent Medicine
"I practice as both a general pediatrician and an adolescent specialist, so I get the unique opportunity to work with residents in outpatient & inpatient settings; in general & subspecialty clinics; and even sometimes in a research capacity. This variety allows me to witness many residents discovering their 'place to shine' in medicine. Something I love about being an APD is the constant opportunity to innovate. Helping the program respond to changing learning needs of our residents, to developments in medical education best practices, and to advances in the field of pediatrics keeps me energized! I was happy to return to the wonderful city of Madison and join the GME crew here in 2019, after spending time in Seattle, the Twin Cities, and Boston."
Adam S. Bauer, MD
Associate Program Director
Neonatologist
"I work as a Neonatologist and as the Course Director for multiple medical student clinical rotations including the Inpatient Acting Internship and Pediatric Intern Prep Course. I've had the great opportunity to complete both Pediatric Residency and Neonatology Fellowship here at the University of Wisconsin prior to staying on as an attending. I am very passionate about medical education, especially in the use of simulation to help support the needs of all of our medical trainees.
My educational mission is to create an inclusive and adaptive learning environment that best supports the goals of all of our medical trainees, while providing an opportunity for our instructors to improve upon their skills at the same time. I am incredibly excited to have the opportunity to work with our amazing pediatric residents here at UW!"
Heidi Kloster, MD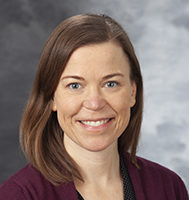 Associate Program Director
Pediatric Hospitalist
"I'm passionate about providing high-quality clinical care and advocating for children with medical complexity and children with special needs more broadly. My scholarly interests focus on well-being across a number of groups – from our patients and their caregivers, to medical trainees and practicing healthcare providers. I am very interested in physician mental health and well-being, and I enjoy exploring ways to infuse resilience building into the culture and curricula of medical training. My educational philosophy is very mentorship focused. I find great joy in being part of residents' journeys as they form their professional identity and grow in their knowledge and skill as a physician in a supportive environment. As a proud alumnus (undergrad and medical school), I was thrilled to return to Wisconsin in autumn of 2020 as a faculty member after practicing for a number of years in California and Texas. Outside of medicine, I love spending time with my son, our silly dog, experimenting in the kitchen, and getting out on the hiking trails."
Kelly McGregory, DO, FAAP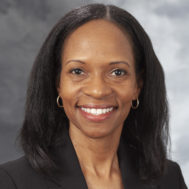 Associate Program Director
Child Protection
"I am so excited to be in the role of APD! I hope my experiences and insights will be valuable to the program. I am married with two sons (12 and 16) and a new puppy. We enjoy fishing and are looking forward to exploring Wisconsin State Parks this summer."
Andrea Jones, MD
Continuity Clinic Director
General Pediatrics and Adolescent Medicine
"Greetings! You can call me Ande. I am a general pediatrician in our General Pediatric and Adolescent Medicine division. After growing up on the East Coast, I came here for my undergraduate education. I quickly became a Madison lifer, graduating from this residency program in 2016. After completing a chief year, I joined the division in 2017 and work at UW Union Corners Clinic on the east side of Madison. I am passionate about providing comprehensive care to my patients, many of whom have complex medical or behavioral health concerns, and about my role as a resident preceptor. I relish teaching residents about the full spectrum of pediatric care and value honest and candid feedback (both giving and receiving). In clinic, I strive to serve as a guide and teacher while encouraging residents to take ownership of their patients' care.
As the continuity clinic director, I strive to uphold our program's core educational values and to support each resident-preceptor team. I analyze data on patient encounters across all continuity sites to tailor education and ensure residents receive a balanced experience. I am always available to collaborate on individualized learning plans to help residents hone their skills, achieve personal goals, and improve their confidence in clinic. I am committed to ensuring that graduates of our program are well trained in general pediatrics regardless of the specialty they pursue.
I am extremely fortunate to be a part of such a wonderful program and to work with amazing residents. I endeavor to help our program continually evolve and am committed to finding innovative ways to optimize education in continuity clinic."