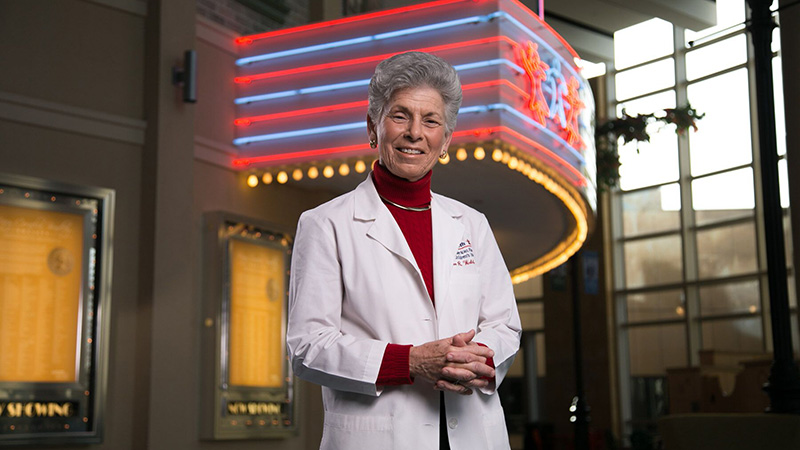 January 2006 marked the beginning of the tenure of Ellen R. Wald, MD, as the new chair of the Department of Pediatrics. She was the first woman selected to chair a department in the University of Wisconsin School of Medicine and Public Health. At the end of this month, December 2022, she will step down from that position after 17 years of strategic, transformative growth and improvement for the department under her astute and farsighted leadership.
"Leading this department has been the peak experience of my academic career," said Dr. Wald, the Alfred Dorrance Daniels Professor on Diseases of Children. "And I am so grateful for the opportunity to have worked so closely with so many incredibly hard-working, dedicated and committed individuals — to care for our patients, to teach our learners, and to, hopefully, change the face of medicine in a positive direction."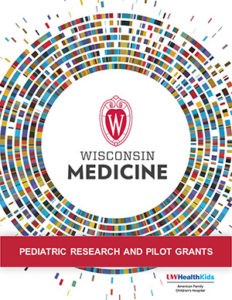 The University of Wisconsin School of Medicine and Public Health Department of Pediatrics included 90 faculty members in 2006. Enlarging and improving it was one of many of Dr. Wald's goals as chair. Early in her tenure, she sought to learn what the small department could do well and build on those strengths. "I made an effort to know every member as well as I could and have my finger on the pulse of the department; that is, I knew how things were working because I knew who was working," she said. "It was a level of personal connection that I strived to maintain from my first year."
Her strategy worked, and it helped her orchestrate remarkable growth in her time as chair. Since Dr. Wald joined the department, its faculty has more than doubled. The department has seen its extramural funding from the National Institutes of Health (NIH) increase more than eight-fold. And today the department ranks No. 7 in the nation among pediatric academic departments receiving research funding from the NIH.
But Dr. Wald's influence stretches beyond the numbers. The Department of Pediatrics and UW Health Kid's American Family Children's Hospital, where Dr. Wald serves as pediatrician-in-chief, have made great strides to develop clinical programs that better serve children and families in Wisconsin and beyond. The pediatric heart program, pediatric cancer care, and allergy research team are all nationally recognized. The Division of Neonatology and Newborn Nursery, which cares for preterm and acutely ill babies in two area NICUs, has grown from five to more than 25 faculty members. During Dr. Wald's tenure, the department launched the Complex Care Program (under the direction of Mary Ehlenbach, MD, and Ryan Coller, MD, MPH) to better support children with medical complexity, as well as the Division of Hospital Medicine, including a Pediatric Hospitalist Program, to care for children in the American Family Children's Hospital. Her support has allowed both programs to flourish and be recognized nationally for their overall excellence.
View a photo gallery of Dr. Wald through the years
In addition to Dr. Wald's strong support of research, she has been a clinically "visible" chair, acting as a role model for residents and students and underscoring the importance of meticulous patient care. A faithful attendee of morning report and other educational sessions, she has championed both clinical care and education. "I want the residents to know how important these missions are in our program and for pediatricians, whether they are primary care providers or super subspecialists," she said.
Dr. Wald herself has 260 peer-reviewed publications and since joining the faculty has brought in 35 funded grants totaling $6.7 million. She is internationally recognized for her work in pediatric sinusitis: its microbiology, diagnosis, and treatment, and for other research. Further, she has been honored with more than 20 awards, many recognizing her superb teaching.
In the fall of 2021, Dr. Wald was awarded the prestigious Folkert Belzer Award, conferred annually to a University of Wisconsin School of Medicine and Public Health faculty member. It is a recognition of lifetime achievement presented to an outstanding individual who has had a profound, consequential effect on the school, the people, and the populations touched by that person's service.
When Dr. Wald accepted the award at the SMPH fall faculty and staff virtual meeting on October 11, 2021, Robert N. Golden, MD, dean of the School of Medicine and Public Health, succinctly described why she warranted the honor: "Dr. Wald has been a remarkable, game-changing department chair and institutional leader," Golden said. "She has dramatically advanced our clinical and academic missions, driven by a profound commitment to improving the health of all children."
At about that same time, in September 2021, Dr. Wald indicated to leadership that she wanted to move toward stepping down from the chair position, wishing to spend more time with her family, but also still contributing to teaching and research within the department. A search committee for a new chair was assembled. After more than a year of interviews, campus visits, and diverse discussions, the committee determined this fall that they had not been able to find an appropriate candidate to take over the position of chair of the Department of Pediatrics. A new search will begin in 2023.
When Dr. Wald steps away from her chair responsibilities, Megan Moreno, MD, MSEd, MPH, vice chair of academic affairs and professor and chief, Division of General Pediatrics and Adolescent Medicine, will immediately step up to serve as interim chair. Dr. Wald will remain a valued faculty member: she is not retiring or leaving the department — she will be changing titles and moving to a new office. After some time with family, she is looking forward to delving back into research and teaching as a faculty member.
For 17 years of discerning, compassionate, game-changing leadership and service, the Department of Pediatrics offers its profound gratitude: Thank you, Dr. Wald!
There will be a celebration of Dr. Wald's legacy and long service on February 2, 2023. It will be a hybrid celebration, available in person or remotely. In addition, a giving campaign has been established in her honor to benefit the department's pediatric research and pilot grant fund.
Photo Gallery: Dr. Wald through the years