The 2022 UW–Madison Diversity Forum, an all-campus and community opportunity to discuss, share, and learn about contemporary issues of equity, diversity, inclusion, and belonging, is slated for November 14–15. It will feature presentations, discussions, and forums connected to this year's theme of The Power of Remembering: Reclaiming Our Legacies to Imagine New Futures.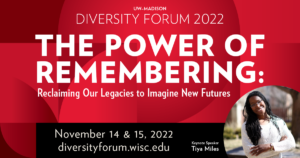 A group of experts from the Department of Pediatrics will offer a breakout session during the event: "Healthy Equity Rounds: An Opportunity for Clinical and Anti-Racism Learning to Intersect." Department presenters will include Mary Ehlenbach, MD, associate professor, Division of Hospital Medicine, and the department's director of diversity, equity, and inclusion; Mala Mathur, MD, MPH, associate professor, Division of General Pediatrics and Adolescent Medicine, and the department's director of professional development; Jenna Contreras, strategic initiatives specialist; Laura Houser, MD, professor, Divisions of General Pediatrics and Adolescent Medicine and Global Pediatrics, and the department's director of advocacy; and Kelly McGregory, DO, associate professor and interim chief, Division of Child Protection. The presentation will begin by examining the group's experience implementing and refining Health Equity Rounds, a case-based, lecture-style presentation through which physicians teach and learn from one another about strategies for combating racism, ableism, and other forms of bias in the healthcare environment. The session will then move into breakout groups in which participants will have the opportunity to collaborate with each other to find ways to implement health equity into their own work environments.
For more than 20 years, the Diversity Forum has welcomed the campus and public annually for a free, two-day conference. Its goal is to share the latest knowledge and research, help attendees learn new perspectives and best practices, and inspire attendees to make positive changes in the world. This year's Diversity Forum welcomes as its keynote speaker Harvard historian Tiya Miles, National Book Award winner for All That She Carried. View the event's full agenda and register online.