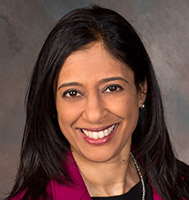 Education
BS, Tufts University, Boston, Massachusetts
MD, State University of New School of Medicine and Biomedical Sciences, Buffalo, New York
Residency, Pediatrics, Children's Hospital of Buffalo, Buffalo, New York and Loyola University Medical Center, Chicago, Illinois
MPH, University of Wisconsin School of Medicine and Public Health, Madison, Wisconsin
Fellowship, Integrative Health, Osher Collaborative for Integrative Health, San Francisco, California
Professional Activities
Dr. Mala Mathur is associate professor (CHS) in the Division of General Pediatrics and Adolescent Medicine. She also serves as the director of professional development for the Department of Pediatrics. In that role, Mathur coordinates programming for Pediatric Grand Rounds, workshops, and conferences. Additionally, Mathur enjoys teaching medical students and residents and is a recipient of the DOP Outstanding General Pediatrician Award. She is active in local, state, and national-level advocacy efforts and is a recipient of two American Academy of Pediatrics (AAP) Special Achievement Awards for her work in promoting developmental screening and firearm safety. She is active in the AAP and currently serves as the policy chair on the Executive Committee of the Council of Community Pediatrics and as a member of the Chapter Former Management Committee. 
Clinical Interests
Mathur is a primary care pediatrician with interests in quality improvement methodology to improve patient outcomes. In her practice, she uses an integrative health approach to promote the well-being of children and families.
Research Interests
Mathur's research interests are in the areas of integrative health, mind body practices and mindful parenting. She has engaged in research involving cross sectional surveys, content analysis and qualitative work. Through this work, she aims to better understand how best to support families in practicing mindfulness and in the use of other integrative health approaches.