Three Department of Pediatrics members, Sarah Webber, MD, director of well-being, associate professor, Division of Hospital Medicine; Jessica Babal, MD, assistant professor and interim chief, Division of General Pediatrics and Adolescent Medicine; and Megan A. Moreno, MD, MSEd, MPH, interim department chair, vice chair of academic affairs, and professor, Division of General Pediatrics and Adolescent Medicine, are co-editors of a new book addressing pediatrician well-being.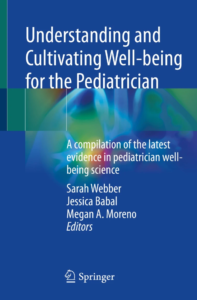 Released in December 2022, the publication, Understanding and Cultivating Well-being for the Pediatrician: A compilation of the latest evidence in pediatrician well-being science, is intended to present a comprehensive rather than a work-centric or individual resilience-building approach. The authors noted in an overview that a critical gap in the existing literature is a book that uses an evidence-based model of well-being and applies this model to the unique experiences of pediatricians. Notably, each chapter highlights the unique role of technology in pediatricians' lives.
Eighteen chapters are presented in four broad categories:
Introduction to Pediatrician Well-being offers a historical perspective and a definition and conceptualization of pediatrician well-being.
Challenges to Pediatrician Well-being includes 11 chapters on such topics as illness, chronic stress, substance use, burnout, moral distress, and Diversity, Equity, and Inclusion (DEI) challenges.
Fostering Pediatrician Well-being includes six offerings addressing a wide range of concepts and activities proven to enhance pediatrician well-being, from compassion, meaning, and purpose to spirituality and the arts.
Bringing It All Together Through a Career presents three articles offering pro-active strategies, such as recognition of career milestones, applying advice and frameworks from outside of medicine, and integrating well-being into pediatrician culture and practice.
The book is available as a free PDF download from Springer International Publishing. It is also available for purchase as a softcover book.