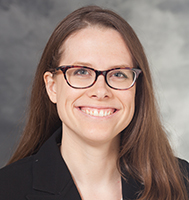 Education
BS, University of Dayton, Dayton, Ohio
MD, University of Cincinnati, Cincinnati, Ohio
Residency, Pediatrics, University of Wisconsin, Madison, Wisconsin
Professional Activities
Dr. Jessica (Jess) Babal is associate professor (CHS) and interim academic division chief in the Division of General Pediatrics and Adolescent Medicine. Her professional mission is to cultivate compassionate and humanistic clinical and working environments in medicine. She co-created the Introduction to Humanities elective for medical students and is the director of the Listen In! Storytelling Collaborative which develops storytelling programming and research.
Clinical Interests
Babal is a pediatrician committed to providing high-quality family-centered care. 
Research Interests
Babal is a member of the Pediatric Resident Burnout and Resilience Study Consortium (PRB-RSC), facilitating annual collection of pediatric resident well-being data. Additionally, she is a member of the PRB-RSC Learning Environment task force which aims to study how learning environment components intersect with pediatric resident well-being. Her research also explores issues of gender bias in medical education and innovative applications of the humanities in medical education.