Sarah Webber, MD
Position title: Associate Professor, Director of Well-being
Address:
Division of Hospital Medicine
For Academic Inquiries: (608) 265-5445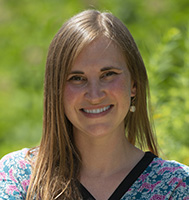 Education
BS, University of Nebraska, Lincoln, Nebraska
MD, Sanford School of Medicine, Vermillion, South Dakota
Residency, Pediatrics, University of Wisconsin, Madison, Wisconsin
Global Health Track Resident, University of Wisconsin, Madison, Wisconsin
Professional Activities
Dr. Sarah Webber is associate professor (CHS) in the Division of Hospital Medicine and director of well-being in the Department of Pediatrics. In her role as director of well-being, Webber works to promote an environment where department members can experience meaningful work and personal well-being. She has led and mentored others on many scholarly projects investigating the factors that impact clinician well-being. In addition to several manuscripts investigating physician well-being, Webber is lead editor of the first pediatrician well-being textbook: Understanding and Cultivating Well-being for the Pediatrician.
Clinical Interests
Webber's clinical time is spent helping kids navigate medical procedures through the use of sedating medications and psychological support. She aims to help children cope with procedures without developing medical trauma, while also enhancing their skills to navigate future medical encounters as they grow and develop.
Research Interests
Webber's research focuses on advancing the understanding of clinician well-being. She is interested in well-being promoters and detractors at the system and personal levels.