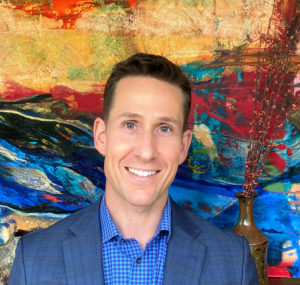 I feel that every baby everywhere deserves the best care to allow them to survive and thrive.
As a neonatologist and a painter, I promote Advocacy, Research, and Teaching as part of the ART of medicine.  Inequities in healthcare have a negative impact on neonates and their families worldwide.  I am committed to partnering with people in our community and globally to work on ways to eliminate healthcare inequities and improve neonatal care.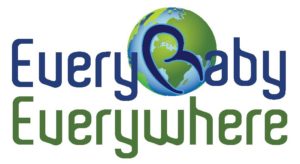 Advocacy
Injustice anywhere is a threat to justice everywhere.
Dr. Martin Luther King, Jr., Letter from Birmingham Jail
Racial inequality and injustice threaten the lives and health of babies and children in the United States and worldwide.  We must advocate for all children to have clean air, water, sanitation, shelter, nutrition, and access to quality healthcare because every child deserves a fair and just opportunity to be as healthy as possible.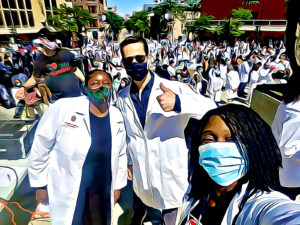 In Wisconsin, infant mortality for Black babies is unacceptably high and exclusive breastfeeding rates are unacceptably low; these racial inequities need to be rectified.
Through the generous support of the Meriter Foundation has funded our project, A Pregnancy, Birth, and Lactation Support Program to Increase Exclusive Breastfeeding Rates in African American Women.  We are partnering with the Harambee Village doulas and the African American Breastfeeding Alliance, to support an early pregnancy, birth, and lactation support program aimed at increasing exclusive breastfeeding rates in Black infants, which may improve their outcomes.  The Doula Model of Care includes emotional and physical support, respects cultural and social needs, and offers evidenced-based education and resources to foster informed decision-making during pregnancy, childbirth, and in the postpartum period.
Most neonatal deaths and morbidities occur in low-and-middle-income countries.  I am passionate about improving for neonates in low resource settings.  I have done volunteer global health work in Peru, Mongolia, Cambodia, Zambia, Malawi, and Uganda.
I have treasured working on projects with University of Wisconsin School of Medicine and Public Health medical students sponsored by the Herman and Gwendolyn Shapiro Foundation.  Mackenzie Carlson and I have partnered on a project investigating viewpoints of pregnant mothers, community health workers, and doctors on prenatal care in Mukono, Uganda.  Mackenzie conducted standardized household questionnaires, focus group discussions, and key informant interviews to determine the prenatal care practices and antenatal health education being disseminated in Lweza Village Uganda.  This study demonstrated that most women in Lweza do not receive the suggested amount of antenatal appointments during their pregnancies or any standardized antenatal education.  Educational opportunities on family planning, post-partum depression, and the safety of traditional herbs during pregnancy exist.  We are currently studying of traditional herbs used during pregnancy with the hope of understanding ways to promote safe prenatal care practices to improve maternal and neonatal health.
In low-income settings, air pollution results in a tremendous amount of death and morbidities. In many rural communities, like those in sub-Saharan Africa, a lack of modern electricity dependent technologies forces people to burn biomass fuels such as wood, charcoal, or agricultural waste within their homes for cooking purposes.  As a result, they are exposed to particulate matter from smoke, ash, and dust which pollutes the air in their homes. This constant exposure, where they eat, play, and sleep poses a severe health threat impacting risks for heart disease, respiratory problems, and lung cancer.
In partnership with two talented UW Biomedical Engineering undergraduate students, Cara Stanker and Akshith Mandepally, through a Wisconsin Idea Fellowship award, we are developing an affordable, effective, and durable solar-powered air filtration device for household use in setting such as sub-Saharan Africa to help promote clean air and reduce adverse health threats.
Publications related to public health
Tomlin BD, McAdams RM, Zapata JY, Kaluarachchi DC. High Black infant mortality in Wisconsin: factors associated with the ongoing racial inequity. J Perinatol. 2021 Feb;41(2):212-219. doi: 10.1038/s41372-020-00906-6. Epub 2020 Dec 18. PMID: 33339984.
Publications and projects related to global health
Delzer ME, Kkonde A, McAdams RM. Viewpoints of pregnant mothers and community health workers on antenatal care in Lweza village, Uganda. 2021. PLoS ONE 16(2): e0246926.
Garcia-Prats AJ, McAdams RM, Matshaba M, Thahane L, Butteris SM, Conway JH, Slutsker M, St Clair NE, Haq H. Mitigating the Impacts of COVID-19 on Global Child Health: a Call to Action. Curr Trop Med Rep. 2021 May 11:1-7.
Namiiro FB, Mugalu J, McAdams RM, Ndeezi G. Poor birth weight recovery among low birth weight/preterm infants following hospital discharge in Kampala, Uganda. BMC Pregnancy Childbirth 2012;12(1):1.
McAdams RM, Erdenebileg A, Batra M Zagd G. Health care provider attitudes toward non-initiation and withdrawal of neonatal resuscitation for preterm infants in Mongolia. Journal of Population, Health, and Nutrition 2012 Sep;30(3):346-52
McAdams RM, McPherson RJ, Batra M Zagd G. Antenatal parental counseling in Mongolia: a countrywide survey of Mongolian health care providers. Maternal and Child Health Journal. 2013 Jun 27
Hedstrom A, Ryman T, Otai C, Nyonyintono J, McAdams RM, Lester D, Batra M. Demographics, clinical characteristics and neonatal outcomes in a rural Ugandan NICU. BMC Pregnancy Childbirth. 2014 Sep 19;14:327
McAdams RM. Bubble CPAP may be safe and efficacious for neonates in low and middle income countries, but more evidence is needed. Evid Based Med. 2015 Feb 9. pii: ebmed-2014-110135
McAdams RM, Hedstrom AB, DiBlasi RM, Mant JE, Nyonyintono J, Otai CD, Lester DA, Batra M. Implementation of bubble CPAP in a rural Ugandan NICU. Respiratory Care. 2015 Mar;60(3):437-45
Delzer ME, Kkonde A, McAdams RM. Viewpoints of pregnant mothers and community health workers on antenatal care in Lweza village, Uganda. 2021. PLOS ONE 16(2): e0246926.
Mandepally A, Stanker C, Larson T, McAdams RM, Project Solar Filter, a device to help decrease disease from air pollution cause by particulate matter from biofuels.  Rice 360° 11th Annual Global Health Technologies Design Competition, selection as a Semi-Finalist Team. March, 2021. https://www.youtube.com/watch?v=NU5h_hihrAs&t=6s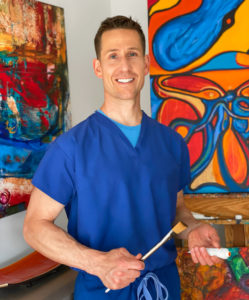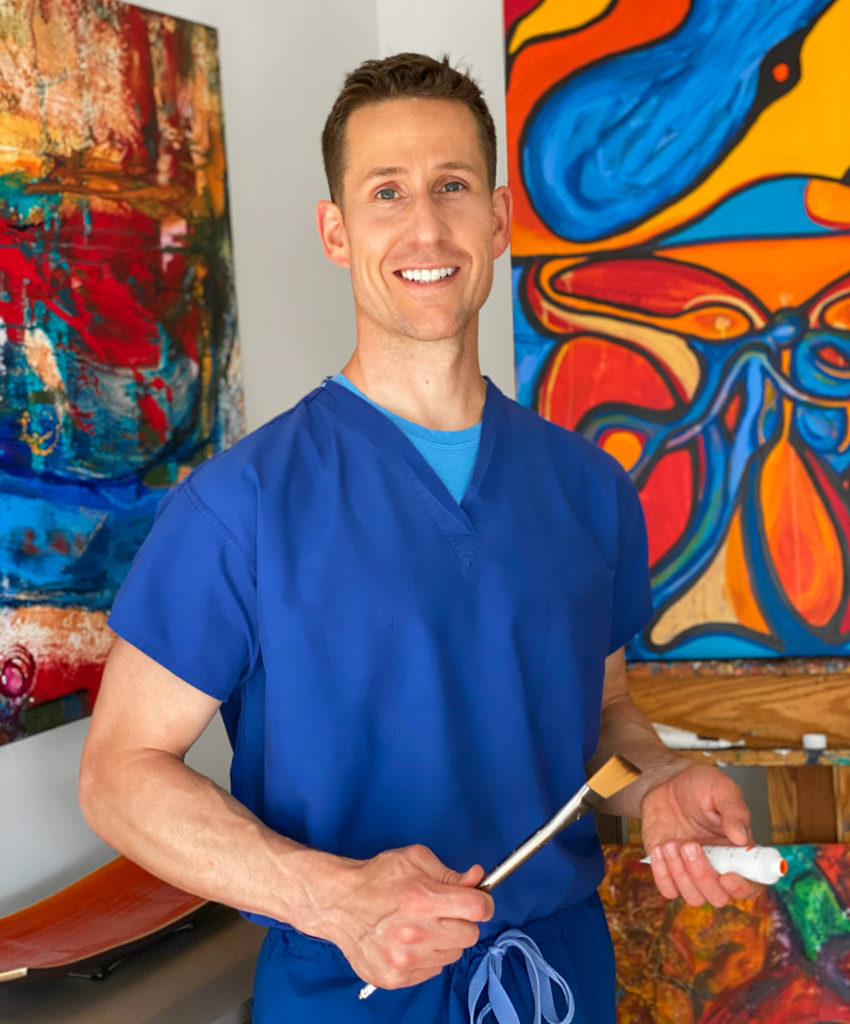 Art work related to Advocacy
Collaborators – Community:
Dr. Jasmine Zapata
Tia Murray, BS, CLC, CD(DONA). Co-Founder and CEO. Harambee Village Doulas
Collaborators – Global Health:
Mackenzie Carlson and Payden White (former UW Medical Students, Shapiro Scholars)
Akshith Mandepally, Cara Stanker, Thor Larson (UW Undergraduate Students)
Research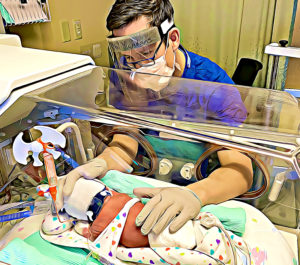 Perinatal brain injury can be devastating to babies and to their families.  My hope is that through research, we can understand ways to prevent brain injury in babies and treat babies with brain injury to help optimize their neurodevelopmental outcomes.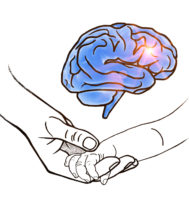 Hypoxic ischemic encephalopathy
Neonatal hypoxic ischemic encephalopathy (HIE) causes significant morbidity and mortality in neonates worldwide. HIE is a condition that results when a perinatal event impairs perfusion and oxygen delivery to the fetus or newborn, which results in hypoxia, acidemia, metabolic acidosis, and possibly brain damage.  In the U.S., HIE occurs in ~1.5 infants per 1000 live births.  To identify antenatal and intrapartum risk factors for neonatal HIE, we used Peri-Data.Net®, a secure HIPPA-compliant data platform developed by the Wisconsin Association for Perinatal Care, to assess maternal, antenatal, intrapartum, and neonatal variables.  We demonstrated independent antenatal risk factors included primigravida, previous fetal death/stillbirth, antidepressant use, illicit drug use, Rh sensitization, and adjusted gestational weight gain >13.6 kg. Independent intrapartum risk factors identified were placental abruption, ruptured uterus, moderate-to-heavy meconium stained amniotic fluid, and delivery by cesarean-section. An intrapartum risk factor was present in 70.3% of the HIE group compared with 29.6% of the non-HIE group.  We are now working on assessing is signature fetal heart rate patterns coupled with antenatal and intrapartum risk factors can be used to identify fetuses at high risk for HIE in order to better guide obstetrical clinical-decision making to hopefully prevent neonatal HIE.
Ref: Peebles PJ, Duello TM, Eickhoff JC, McAdams RM. Antenatal and  intrapartum risk factors for neonatal hypoxic ischemic encephalopathy. J Perinatol. 2020 Jan 40: 63–69
Other publications related to perinatal brain injury
McAdams RM and Juul SE. Cerebral Palsy:  Prevalence, Predictability, and Parental Counseling. NeoReviews 2011;12; e564-e574
McAdams RM and Juul SE. The role of cytokines and inflammatory cells in perinatal brain injury. Neurology Research International 2012:561494
McAdams RM, McPherson RJ, Mayock DE, Juul SE. Outcomes of extremely low birth weight infants given early high-dose erythropoietin. Journal of Perinatology 2013;33(3):226-30
Traudt CM, McPherson RJ, Bauer LA, Richards TL, Burbacher TM, McAdams RM, Juul SE. Concurrent erythropoietin and hypothermia treatment improve outcomes in a term nonhuman primate model of perinatal asphyxia. Developmental Neuroscience. 2013;35:491-503
McAdams RM, McPherson RJ, Kapur R, Phillips B, Shen DD, Juul SE. Dexmedetomidine reduces cranial temperature in hypothermic neonatal rats. Pediatric Research 2015;77:772-778
McAdams RM, McPherson RJ, Beyer RP, Bammler TK, Farin FM, Juul SE. Dose-dependent effects of morphine exposure on mRNA and microRNA (miR) expression in hippocampus of stressed neonatal mice. PLoS ONE. 2015 Apr 6;10(4):e0123047
McAdams RM and Juul SE. Neonatal encephalopathy:  Update on therapeutic hypothermia and other novel therapeutics. Clinics in Perinatology. 2016 Sep;43(3):485-500.
McAdams RM, McPherson RJ, Kapur RP, Juul SE. Focal Brain Injury Associated with a Model of Severe Hypoxic-Ischemic Encephalopathy in Nonhuman Primates. Developmental Neuroscience. 2017;39(1-4):107-123
McAdams RM, Fleiss B, Traudt C, Schwendimann L, Snyder JM, Haynes RL, Natarajan N, Gressens P, Juul SE. Long-Term Neuropathological Changes Associated with Cerebral Palsy in a Nonhuman Primate Model of Hypoxic-Ischemic Encephalopathy. Developmental Neuroscience 2017;39(1-4):124-140
McAdams RM.  Increased Odds of Survival or Prevention of Severe Neurological Injury in Extremely Low-Gestational-Age Neonates: Including Placental Transfusion as the First Step to Improve Outcomes in Preterm Newborns. JAMA Netw Open. 2019 Mar 1;2(3):e191293.
McAdams RM, Pak D, Lalovic B, Phillips B, Shen DD. Dexmedetomidine Pharmacokinetics in Neonates with Hypoxic-Ischemic Encephalopathy Receiving Hypothermia. Anesthesiol Res Pract. 2020 Feb 25;2020:2582965.
Berube MW, Puia-Dumitrescu M, McAdams RM. Does mild hypoxic ischemic encephalopathy adversely affect neurodevelopmental outcome? Journal of Perinatology. 2021 Mar 13. doi: 10.1038/s41372-021-01026-5. Epub ahead of print. PMID: 33714978.
McAdams RM, Berube MW. Emerging therapies and management for neonatal encephalopathy-controversies and current approaches. Journal of Perinatology. 2021 Mar 12. doi: 10.1038/s41372-021-01022-9. Epub ahead of print. PMID: 33712717.
Collaborators:
Dr. Claudette Onyelobi Adegboro, Neonatology
Theresa M. Duello, PhD. Director Diversity Initiatives, Associate Professor, Department of Obstetrics and Gynecology
Artificial Intelligence (AI)
Data production in the NICU is enormous.  In critically ill infants, making the best decisions requires acquiring and understanding the best data.  Current decision-making approaches, despite massive amounts of data, still result in medical errors, errors that can result in death or disability. To provide the best care for every baby, we need a better decision-making approach in the NICU.
Continuous quality improvement and evidence-based approaches are essential to improve neonatal health care decision-making. AI simulates processes of human intelligence using computer systems, to  focus on learning, reasoning, and self-correction cognitive skills.
AI adapts through progressive learning algorithms, does deep and robust data analysis, increases accuracy, and can performs high-volume, frequent computerized tasks in a fatigue-free, reliable manner. We are working on ways to use AI and machine learning, a subset of AI that uses data, statistics and trial and error to "learn" specific tasks without the need for task specific coding, to enhance neonatal care.
Publications related to A.I.
Singh H, Kusuda S, McAdams RM, Gupta S, Kalra J, Kaur R, Das R, Anand S, Kumar Pandey A, Cho SJ, Saluja S, Boutilier JJ, Saria S, Palma J, Kaur A, Yadav G, Sun Y. Machine Learning-Based Automatic Classification of Video Recorded Neonatal Manipulations and Associated Physiological Parameters: A Feasibility Study. Children (Basel). 2020 Dec 22;8(1):E1. doi: 10.3390/children8010001.
Singh H, Cho SJ, Gupta S, Kaur R, Sunidhi S, Saluja S, Pandey AK, Bennett MV, Lee HC, Das R, Palma J, McAdams RM, Kaur A, Yadav G, Sun Y. Designing a bed-side system for predicting length of stay in a neonatal intensive care unit. Scientific Reports. 2021 Feb 8;11(1):3342. doi: 10.1038/s41598-021-82957-z.
Sun Y, Kaur R, Gupta S, Paul R, Das R, Cho SJ, Anand S, Boutilier JJ, Saria S, Palma J, Saluja S, McAdams RM, Kaur A, Yadav G, Singh H. Development and validation of high definition phenotype-based mortality prediction in critical care units. JAMIA Open. 2021 Mar 25;4(1):ooab004. doi: 10.1093/jamiaopen/ooab004.
Collaborators:
Harpreet Singh, Ph.D., Chief Executive Officer at Child Health Imprints
Wally Block, Ph.D.,  Professor, MRI Imaging, Department of Physics UWSMPH
Yao Sun, MD, PhD, Division Chief, UCSF
Teaching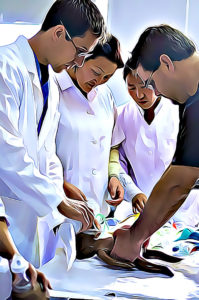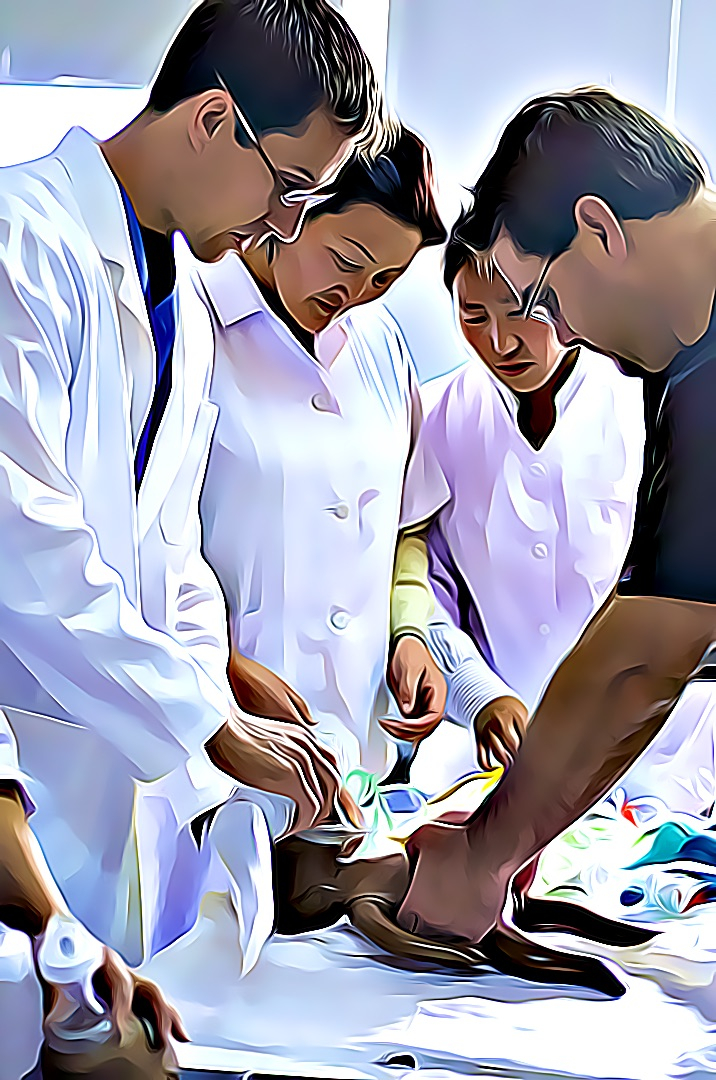 Virtual Reality (VR)
We are developing contemporary educational approaches to augment traditional teaching strategies in neonatology in order to enhance learning experiences in a fun, exciting, and realistic way. With avatar image-based VR, learners can join a 3D distributed virtual environment in the form of real video and as an avatar.  This platform allows remote access to "in-person" environments, where learners are immersed in hospital settings that mimic reality.  We see training in virtual hospitals with virtual patients as the next frontier to optimize learning anywhere and anytime.  This approach allows for collaboration with experts worldwide, safe training, repetitive learning, dynamic participation, and the ability to review lived virtual experience to promote constructive feedback and process improvement.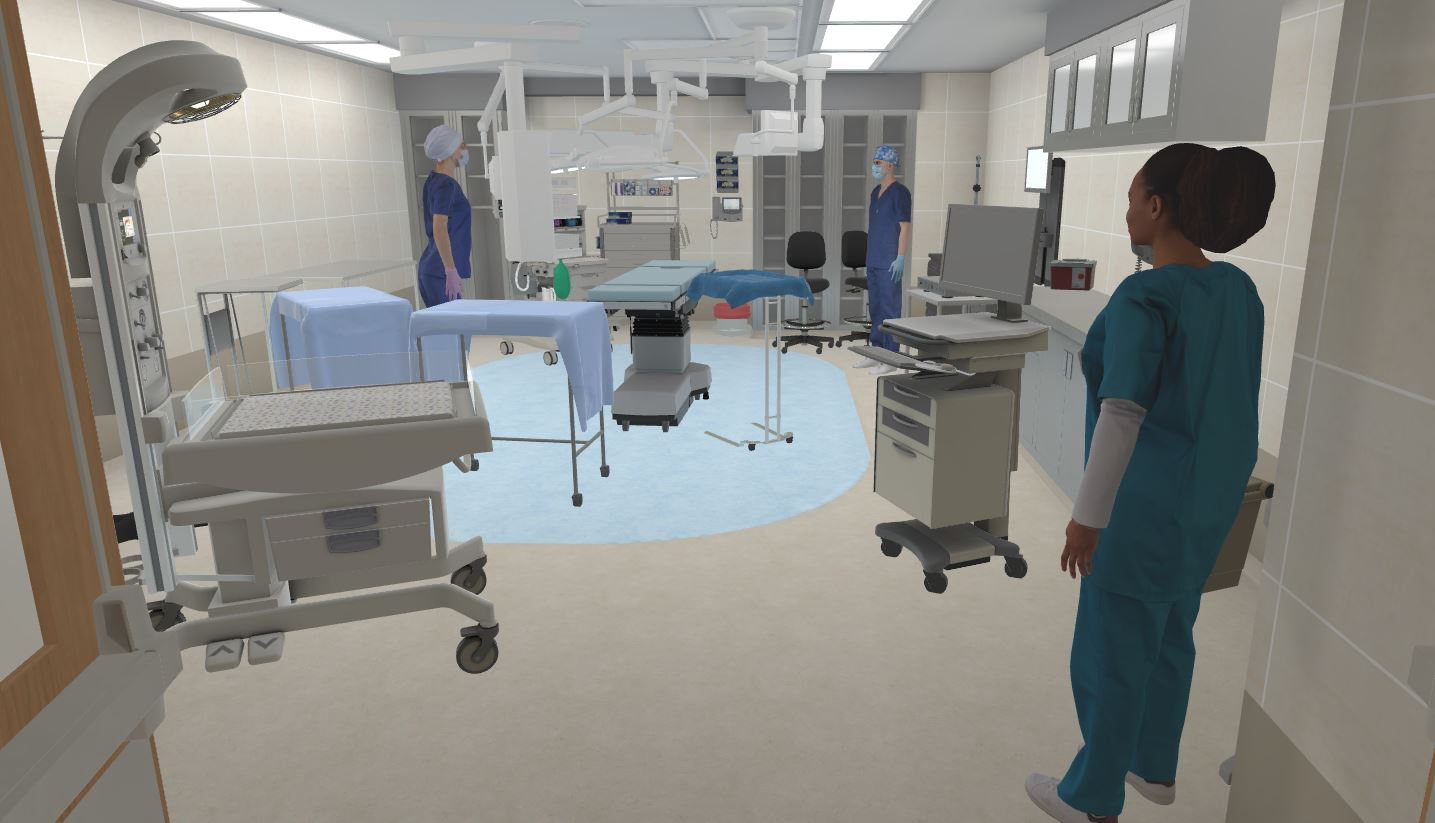 Collaborators:
Jon Brouchoud, Owner/Founder Arch Virtual, Developers of Acadicus
Research News
Last month about 60 neonatologists and learners from Madison and Milwaukee gathered online and in person at UW–Madison's Health Sciences Learning Center for the 3rd annual Wisconsin Neonatology Day. Bradley Yoder, MD, the August L …

May 1, 2023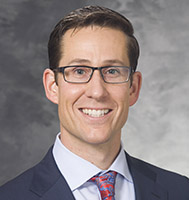 Related Links
Mailing Address
University of Wisconsin School of Medicine and Public Health
Department of Pediatrics
Division of Neonatology
1010 Mound St., Rm 414, Madison WI 53715
Office 608-417-6481 Fax 608-417-6377