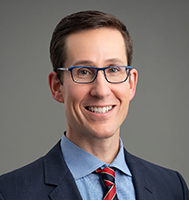 Education
BS, University of St. Thomas, St. Paul, Minnesota
MD, Medical College of Wisconsin, Milwaukee, Wisconsin
Internship, Pediatrics, David Grant Medical Center, Travis Air Force Base, California
Residency, Pediatrics, David Grant Medical Center, Travis Air Force Base, California
Chief Resident, Pediatrics, David Grant Medical Center, Travis Air Force Base, California
Fellowship, Neonatology, Wilford Hall Medical Center, Lackland Air Force Base, Texas
Professional Activities
Dr. Ryan McAdams is professor (CHS) and chief of the Division of Neonatology and Newborn Nursery and a member of the Division of Global Health. He served as a neonatologist with the United States Air Force in Okinawa, Japan for three years and has done humanitarian global health work in Peru, Mongolia, Cambodia, Zambia, Malawi, and Uganda. Through his work with neonates in low-resource countries, McAdams developed the strong conviction that became the overarching focus of his research group: "every baby everywhere deserves the best care to allow them to survive and thrive." McAdams is part of the Inclusion, Diversity, Equity, Accessibility and Anti-Racism Committee in the Department of Pediatrics, and he strives to promote equity, health advocacy for children, and physician wellness.  
Clinical Interests
McAdams works in the UnityPoint Health-Meriter and American Family Children's Hospital NICUs. He treasures caring for babies and partnering with their families to promote positive experiences and outcomes in the NICU. McAdams is grateful to work with students, residents, fellows, nurses, and his colleagues.  
Research Interests
McAdams' research goal is to improve neonatal outcomes locally and globally. His research interests focus on improving neurodevelopmental outcomes in children, utilizing artificial intelligence and machine learning strategies to enhance neonatal safety and health, developing virtual reality simulation models to improve education and training, and promoting perinatal health equity.