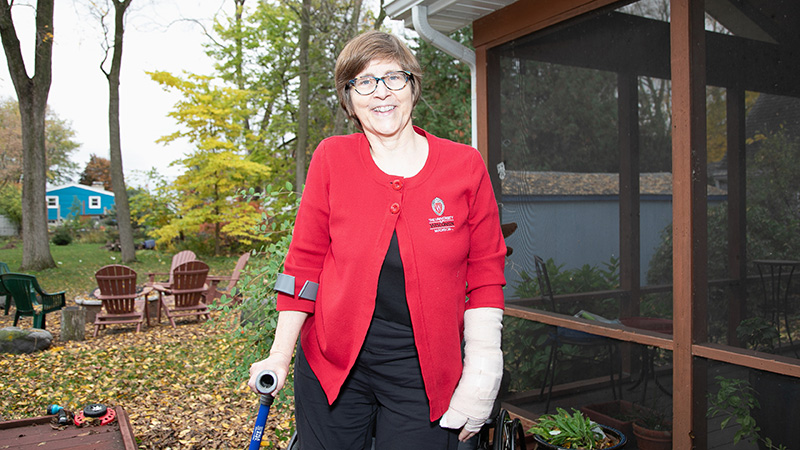 After 21 years with the Department of Pediatrics, Pamela Kling, MD, professor in the Division of Neonatology and Newborn Nursery, will retire in December 2023. Throughout her service in the division, Kling has conducted research through her Kling Research Group, which investigates the development and nutritional regulation of red blood cell production, especially anemia in premature neonates. Intent on passing her knowledge and skills on to future physicians, she has been a dedicated and influential teacher of students and residents throughout her career. Until January 2020, Kling also maintained a busy clinical practice in NICUs at American Family Children's Hospital and the UnityPoint Heath – Meriter Hospital. "I will be retired," Kling explained, "but I plan to continue my research with my lab group after retirement."
Born in Iowa, Kling knew her parents wanted her to have a college education, but medical school was not in the plan when she started an undergraduate Bachelor of Science degree in medical technology (now known as "clinical laboratory science"). She noticed, however, that students intending to go to medical school were taking the same courses she was at the University of Iowa — and she was getting A's. She knew then she could make it in medical school because she was already doing the work. "I also realized that as a laboratory technician, I generally wouldn't have face-to-face contact with anyone but my co-workers," Kling said. "But I knew I wanted contact with patients and other medical staff. A career in medicine would combine science and social contact." She also loved children, so Pamela Kling decided — to her parents' surprise — that it would be a good idea to go to medical school and become a pediatrician. Her path forward was clear.
After earning her medical degree at the University of Iowa College of Medicine in 1985, she started her residency in pediatrics at the University of Wisconsin in 1986, becoming chief resident from 1988 through 1989. She returned to Iowa City for a fellowship in neonatology and nutrition at the University of Iowa Hospitals and Clinics. Her sponsors at the time included John A. Widness, MD, a professor of pediatrics and neonatologist at the University of Iowa until his retirement in 2018. Widness's foundational research investigating anemia in neonates influenced Kling's own research path. She has counted Widness as her mentor throughout her career.
She spent 10 years, 1992 to 2002, as a pediatrician at the Health Sciences Center of the University of Arizona School of Medicine. "A colleague of my mentor was also going there," she said, "and it was a chance for me to get out of the Midwest." She left Arizona for Madison in 2002 to join the UW SMPH Department of Pediatrics. "The job offer and the opportunities associated with it were terrific. Everything that was here would support my research — that was what was important to me," Kling said. "I have never regretted it."
Kling had already begun research addressing anemia in premature neonates at Iowa, including as a co-investigator in a multicenter clinical trial in which the University of Iowa was a participant. This work investigating the kidney hormone erythropoietin — key in the production of new blood cells when blood oxygen is low — and its possible stimulation in anemic neonates would become the core focus of her research both at Arizona and at the University of Wisconsin.
Kling's research group focuses on red blood cell production, particularly in neonates, because anemia complicates the clinical care of nearly 30,000 premature neonates in the U.S. annually. These neonates often require transfusions because of a deficiency of erythropoietin. The drug, erythropoietin, is effective in adults, but less effective in premature neonates. The research group seeks to learn why this therapy has been so ineffective in them.
Kling and her research group have been awarded research grant support throughout her career. Recent research includes being a collaborator on a National Institute of Child Health and Human Development and University of Minnesota Foundation–funded study investigating "Detection and correction of iron deficiency induced abnormal brain metabolism." Kling will continue in more projects like these in her retirement.
Kling's advice for new physicians coming into pediatrics is to consider working in both clinical practice and research. "There are fewer people interested in research — writing papers, writing grants," Kling explained. "They may think it's too much of a challenge, that they won't have enough energy. But I get energy when I do research, I get energy when I take care of patients, and I get energy when I teach. That energy has kept me going all along."
She explained that if a physician pursues clinically relevant questions in research, it's possible to follow a question in both realms. "The clinical practice and research inform, clarify, and enhance each other," Kling said. "There's no reason to choose one over the other."
Ryan McAdams, MD, professor, chief of the Division of Neonatology and Newborn Nursery, and member of the Division of Global Health, expressed the division's gratitude for Kling's long and productive service. "Dr. Kling has been a beacon of excellence in our neonatology division, pioneering research in neonatal iron metabolism and mentoring a generation of medical professionals," McAdams said. "Her profound contributions have shaped the field of neonatology and laid a lasting foundation for future innovation and excellence. As she embarks on retirement, we are deeply grateful for her invaluable legacy and the enduring impact of her distinguished career."