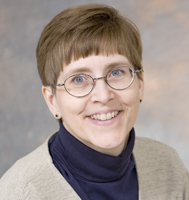 Education
BS, University of Iowa, Iowa City, Iowa
MD, University of Iowa College of Medicine, Iowa City, Iowa
Residency, Pediatrics, University of Wisconsin, Madison, Wisconsin
Chief Residency, Pediatrics, University of Wisconsin, Madison, Wisconsin
Fellowship, Neonatology & Nutrition, University of Iowa Hospitals and Clinics, Iowa City, Iowa
Professional Activities
Dr. Pamela Kling is a professor in the Division of Neonatology and Newborn Nursery. She is an active participant in the Society for Pediatric Research, the Midwest Society for Pediatric Research and Perinatal Research Society. Additionally, she is an instructor in the Endocrinology Reproductive Physiology and Nutritional Sciences Human Nutrition graduate programs.
Clinical Interests
Kling is a neonatologist interested in clinical conditions that impact pregnancy outcomes, especially premature infants in the NICU. In her clinical practice, Kling aims to provide high-quality treatment of anemia in premature infants to optimize long-term neurodevelopment. 
Research Interests
Kling's research investigates the developmental and nutritional regulation of red blood cell production. Her research team studies the impact of iron and hematopoietic growth factors in neurodevelopment and other childhood diseases.