Well-being Philosophy
The primary aims of our pediatric residency well-being curriculum are:  
To train pediatricians who have increased awareness of how their own mental health and well-being impact their ability to provide effective care for their patients, to have a fulfilling/meaningful career, and to maintain a healthy personal life; and

To guide each resident in beginning to build a well-being "skillset" that they will take with them during residency and beyond.

 
These aims are achieved via a curriculum that is longitudinal and progressive in nature, with a combination of experiential and didactic experiences over the course of the residency program, as well as regular opportunities to connect with colleagues and program leadership 
Topics will include organizational well-being and awareness of institutional supports/resources, humanism in medicine, personal well-being and resilience, burnout prevention and screening, training in cognitive flexibility/reframing, and response to medical errors

 
Wellness at Work
We recognize that in order for residents to flourish they must train in a supportive and positive work environment. To that end, our well-being curriculum provides training on organizational well-being, planning for a healthy financial future, institutional supports and mental health resources, and "Pizza with the Program", a regular gathering with program leadership that provides a forum to discuss both program successes and opportunities for growth.  
In addition, we focus on maintenance of personal well-being through training on burnout prevention and screening, goal setting, humanism in medicine, training in cognitive flexibility/reframing, finding meaning in work, and response to medical errors. 
Residents are given educational resources throughout residency, including paid memberships of the American Board of Pediatrics and a subscription to Hippo, an online resource for board preparation that includes a question bank, video lectures and a very popular podcast with residents, "Peds Rap." Other subscriptions provided to residents are most recent editions of Harriet Lane, Lange Guide to Neonatology, Bright Futures and EBM's User Guide to Medical Literature. Also……" 
IMG Support and Integration
As part of supporting the well-being of our IMG trainees, our residency program has begun an informal curriculum to support the acculturation of our IMG resident trainees as they join the UW and the greater Madison community. This curriculum focuses on both professional and personal acculturation challenges that trainees may face, particularly early in their transitional time, provides mentorship, and seeks to ensure their success as physicians in our program. 
We believe it is important for residents to establish meaningful relationships in order to function as a cohesive unit when providing patient care. Below are just a few of the ways we have traditionally fostered personal and professional wellness among our residents. While COVID-19 will likely limit some of these indoor events, we continue to arrange creative outdoor, physically-distanced experiences for our residents to enjoy.
Social Events:

Casino Night
Ellen Wald, MD, our department chair, hosts a casino night at her home where residents, faculty and program administration gather to play blackjack, poker, craps and more (with fake money, of course!).
Holiday Parties
We celebrate the holidays in a variety of settings. From exchanging "Secret Santa" gifts to dressing in cocktail attire for the department's holiday party, we enjoy celebrating various seasons and holidays together.
Sports Leagues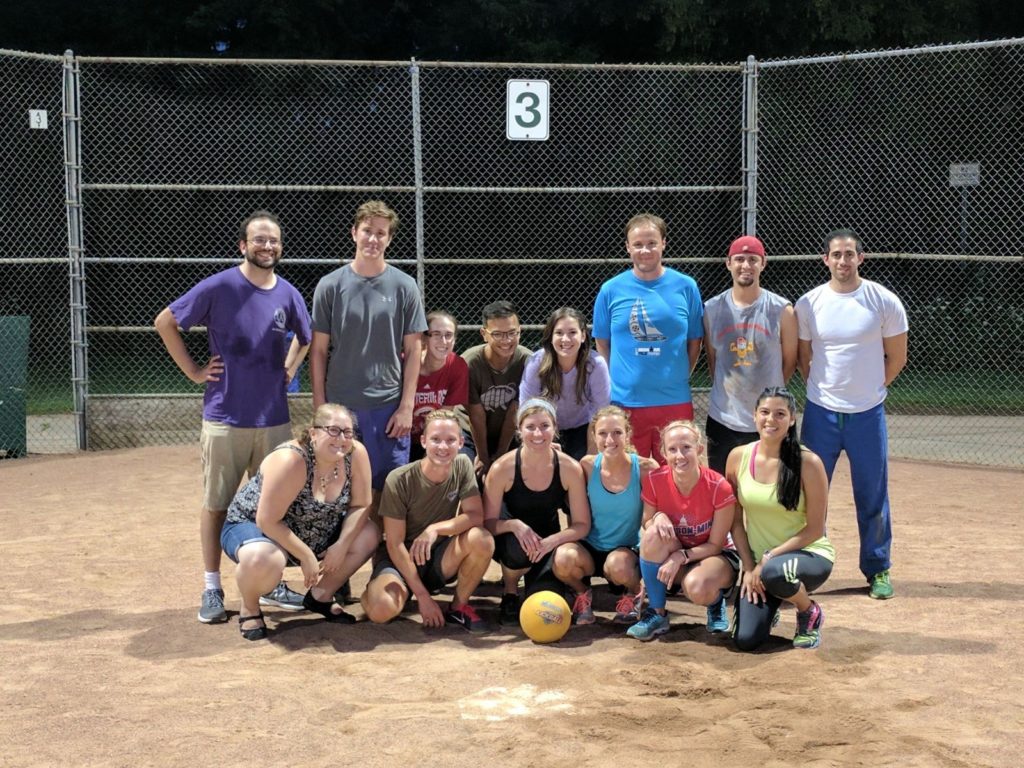 There have been a variety of resident sports leagues over the years, with the most recent being resident kickball, soccer, and volleyball teams.
Resident Olympics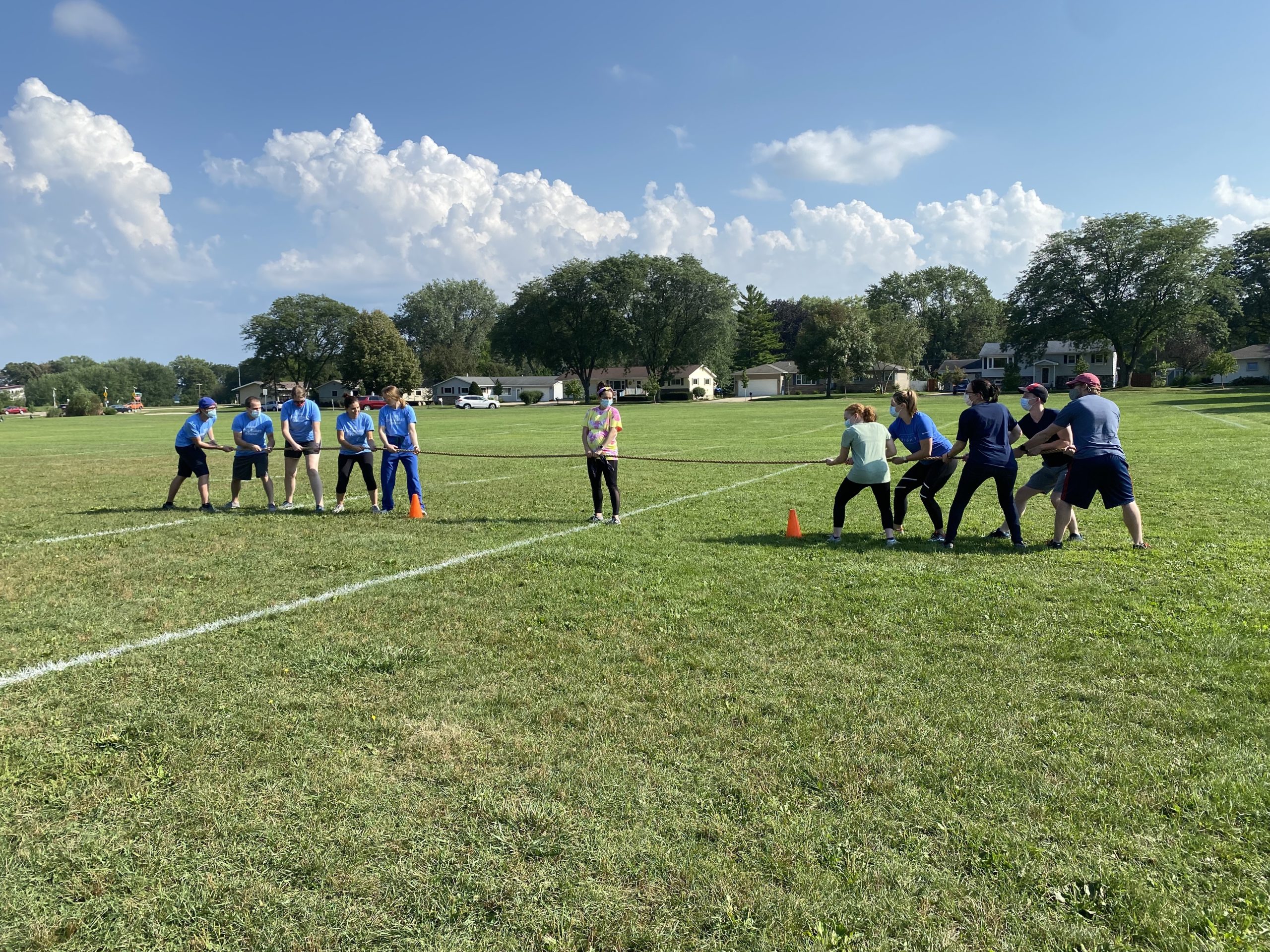 Each autumn, we host a program-wide retreat promoting resident bonding and some friendly inter-class competition. Activities range from tug-of-war, relay races, capture the flag, puzzles to a pumpkin toss!
Annual Camping Trip
Residents take a yearly camping trip to Devil's Lake in Baraboo, Wisconsin, to enjoy hiking, campfires, s'mores and unplugged time in nature.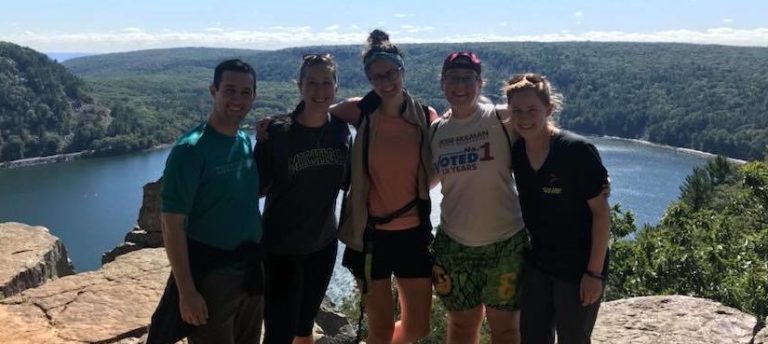 Resident Space
Workrooms
Each service on the inpatient wards has dedicated work spaces for residents. They are equipped with computers for all, laptops for additional medical students, white boards for teaching and the Dragon system for dictating.
Lounge
Our spacious resident lounge is a place for residents to relax and decompress. The lounge has a kitchenette, lockers for each resident, a flat screen television, computer work stations and three call rooms with personal bathrooms and showers!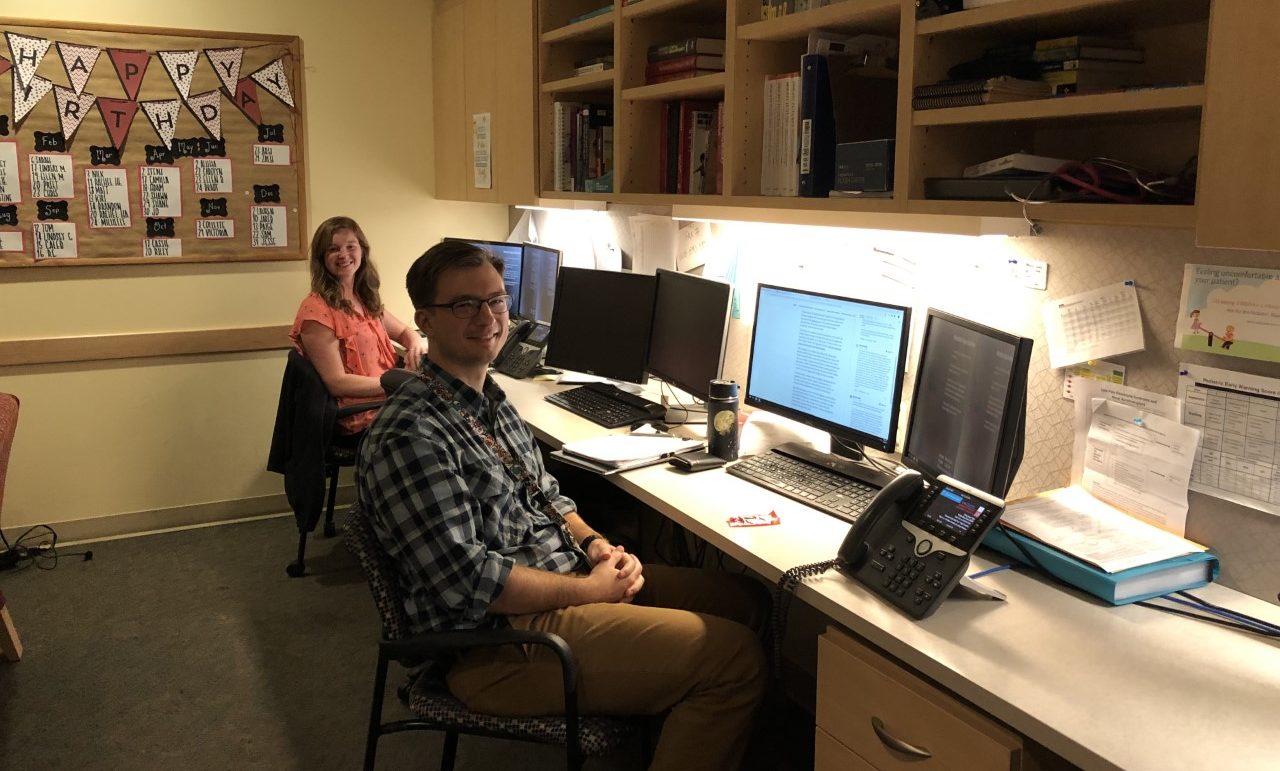 Additional Advantages:
Outdoor healing garden at University Hospital
In 2016, the revised outdoor healing garden opened with beautiful flowers and plants. There are multiple tables for staff and patients to use to get in that extra vitamin D during the day! This is a lunchtime favorite locale.
Books and Book Money
Residents are given educational resources throughout residency, including Harriet Lane, Lange Guide to Neonatology, Bright Futures, EBM User's Guide to the Medical Literature and more. Also, residents have a yearly stipend that they can use toward educational materials, conferences, review courses or step exams/boards.
Resident Retreats
Each resident class attends a weekend retreat with the focus of professional development as well as class bonding.
The development topics include:
PL1: Adjustment to internship, stress management, working in teams
PL2: Managing conflict, career planning, and leadership
PL3: Teaching skills, finding a job, negotiating a contract
After the development content, residents engage in collaboration activities together and have down time dedicated for socializing and relaxing.