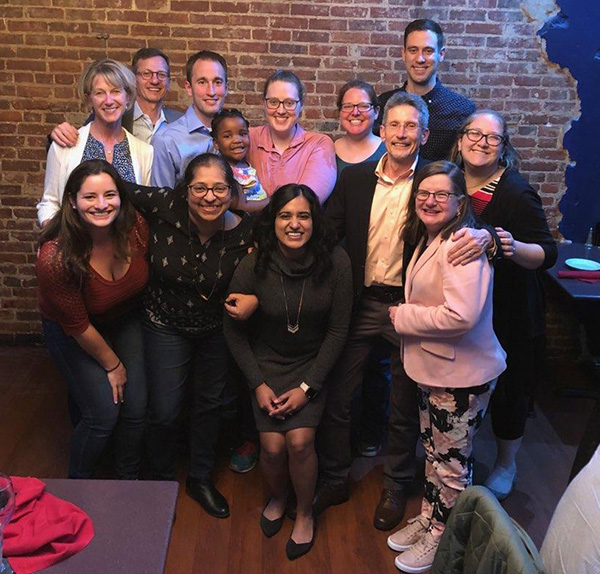 Fellows have protected time off-call so that they can attend the Pediatric Academic Society/Pediatric Endocrine Society conference every Spring.
A central part of our Pediatric Endocrine and Diabetes fellowship is providing fellows with outstanding training that will lead to successful, productive careers in clinical or basic Pediatric Endocrinology. Towards this, dedicated time during year 1 is spent on identifying research areas, and research mentors. The majority of years 2 and 3 will be spent in research, and clinical coverage and call is significantly reduced to accommodate this.
Trainees benefit from the outstanding faculty in the field of diabetes, endocrinology and metabolism in clinical and basic science departments throughout the University of Wisconsin and its successfully renewed NIH CTSA program. Our particular strengths include the study of diabetes, diabetes complications, epidemiology, obesity, nutrition, metabolic effects of pediatric fitness, adipose tissue development and site-specific deposition (by MRI), primate biology, and adipocyte biology.
Annual PAS/PES Meetings
Every year, all three pediatric endocrinology fellows attend the Pediatric Endocrine Society conference.
This is a great opportunity to present their hard work, network with other pediatric endocrinology programs, and learn about the cutting edge research in our field. It has also been a tradition to reunite with previous fellows and catch up over dinner at a new locale every year.
Recent Fellowship Research Projects
Validation of Filter Paper HbA1c Measurement for Screening Application in Newborns
Allison Pollock, MD (2015)
First Year Fitness Improvements from CDC-Recommended School-Based Interventions Are Sustained But Not Augmented Over Three Years
Tasa Seibert, MD, MPH (2015)
The Effects of Prenatal Androgen Exposure on Pancreatic Histology in Adult Male Rhesus Monkeys
Kim Henrichs, MD (2014)
Ethnic Differences in Effects of Fat Deposition on Insulin Resistance in Non-Obese Middle School Girls
Pete Wolfgram, MD (2013)
Grand Rounds and Other Talks
Research Program Collaborators outside Pediatric Endocrine Division
David Abbott, PhD: Professor, Department of Obstetrics/Gynecology. Dr. Abbott studies animal models of female reproductive endocrinology and has developed a comprehensive nonhuman primate model for polycystic ovary syndrome (PCOS). He employs viral-vector based gene silencing technology in nonhuman primates.
Alan Attie, PhD: Professor, Department of Biochemistry. Dr. Attie investigates lipid and lipoprotein metabolism, and the genetics of diabetes and obesity. His research program focuses on discovering genes involved in beta-cell function and their role in diabetes susceptibility.
     
Lisa Cadmus-Bertram, PhD: Assistant Professor, Department of Kinesiology. Dr. Cadmus-Bertram directs the Wisconsin Physical Activity Epidemiology Lab and an active research program that includes (1) interventions to modify physical activity and sedentary behavior; (2) observational epidemiology with population-based data sets; (3) needs assessments for special populations; and (4) validation of the accuracy of wearable fitness trackers.
 
Christopher Coe, PhD: Professor, Department of Psychology; Director, Harlow Center for Biological Psychology. His research focuses on biobehavioral health, with a particular interest in early development and life course analyses.
 
Elizabeth Cox, MD, PhD: Professor, Department of Pediatrics. Dr. Cox leads a research program focused on improving children's health outcomes by developing, implementing, evaluating, and disseminating system-level interventions. Dr. Cox is evaluating novel methods to align clinic-based diabetes self-management resources to unique family and patient needs and is developing a clinically-useful tool to identify self-management challenges for type 1 diabetes.
     
Dawn Davis, MD, PhD: Associate Professor, Department of Medicine – Endocrinology. The Davis Lab studies pancreatic beta cell biology focusing on understanding the mechanisms underlying the regulation of beta cell mass in the face of obesity. Her group identified a number of genes regulating obesity in the mouse and human islet and investigating how these genes influence beta cell proliferation and apoptosis in mouse models and in vitro human islets.
 
James Gern, MD: Professor, Departments of Pediatrics and Medicine. Dr. Gern studies the role of viral infections in the initiation and disease activity of asthma and interactions between host and virus that determine the severity of respiratory illnesses. Dr. Gern has assembled birth cohorts which provide opportunities to identify factors that influence not only early immune development, but also the propensity for obesity and tendency to ectopic fat deposition.
Pamela Kling, MD: Professor, Department of Pediatrics. Dr. Kling is a recognized expert on the nonerythropoietic impact of poor iron status on intra- and post-natal growth patterns and has found that obesity during pregnancy is a major risk factor for decreased neonatal iron stores. She has recently completed a study on the impact of obesity during gestation on inflammatory propensities of offspring.
HuiChuan Lai, PhD, RD: Department of Pediatrics. Dr. Lai studies pediatric patients with genetic or chronic diseases that negatively affect their nutritional status. Dr. Lai is conducting a prospective multi-center clinical study, "FIRST" (Feeding Infants Right… from the STart), in six Cystic Fibrosis (CF) centers located in five states (WI, IL, IN, MA and UT), that follows a birth cohort of nearly 200 children with CF from birth to 10 years of age (2027). FIRST studies breast milk composition, fecal microbiome with sibling control, probiotic supplementation, chest computed tomography and lung clearance index, and nutrigenomics and pharmacogenomics using whole genome sequencing-derived genotype data.
Jon Levine, PhD: Professor, Department of Neuroscience, Director, Wisconsin National Primate Research Center. Dr. Levine studies animal models regarding neural and neuroendocrine control of female and male reproductive endocrinology and fertility, sexual and parental behavior, as well as energy homeostasis, including body weight and gluco-regulation. He has developed mouse models delineating specific estrogen and progesterone receptor regulation of reproductive hormone secretions, gonadal function and fertility, sexual and parental behavior, and energy homeostasis (including body weight)..  
Megan Moreno, MD: Professor of Pediatrics, Vice Chair of Digital Health, and the PI of the Social Media and Adolescent Health Research Team (SMAHRT). Dr. Moreno's research interests focus on the intersection of technology and adolescent health, including 3 core research areas: 1) innovative approaches to adolescent health using social media, 2) internet safety education and 3) measuring technology use and misuse.
 
James Ntambi, PhD: Professor, Departments of Biochemistry and Nutritional Sciences. Dr. Ntambi is widely recognized for his molecular work on stearoyl-CoA desaturase enzymes and insulin sensitivity. His novel work on dietary regulation of the steroyl-CoA desaturase genes and adipocyte differentiation has linked stearoyl-CoA desaturase 1 to the obese phenotype and triacylglycerol synthesis and insulin resistance in skeletal muscle.
 
Scott Reeder, MD, PhD: Professor Radiology, has a career mission to build a patient-oriented imaging-based research program focused on translation, comparative effectiveness, and cost-effectiveness of advanced MRI methods for clinical care. Dr. Reeder's research program focuses on development of new MRI methods for quantification of abdominal adiposity, liver fat and features of diffuse liver disease, and the use of new contrast agents in liver and biliary diseases.
 
Federico Rey, PhD: Assistant Professor, Department of Bacteriology. Dr. Rey studies the microbial communities that inhabit the human distal gut. His research includes sequenced-based analyses of human fecal samples, culture-centered studies of anaerobic bacteria isolated from human samples and fecal transplant studies in germ-free mice subjected to defined dietary interventions. He focuses on how environment and host genetics affect organismal microbial representation and how diet-microbe interactions impact cardio-metabolic health.
Bill Schrage, PhD: Professor, Department of Kinesiology. Dr. Schrage's research focuses on how blood flow is controlled to brain and skeletal muscle, and how this control goes awry in disease. His lab studies early vascular changes in humans before clinical disease is present. He currently studies brain health in pre-diabetic obese and/or insulin-resistant adolescents with Dr. Aaron Carrel.
 
Ei Terasawa, PhD: Professor, Department of Pediatrics. Dr. Terasawa's research focuses on neuroendocrine mechanisms of the onset of puberty and development and regulation of gonadotropin releasing hormone (GnRH) neurons. Dr. Terasawa's research, is relevant to understanding of how obesity and its metabolic effects influence pubertal timing and progression.
Research Highlights
Strong emphasis on fellow-centered ideas for research projects.
Multidisciplinary mentor options and protected time to develop research project.
Monthly research meetings with guidance and support from all faculty.
Grant writing courses and supported writing experience.