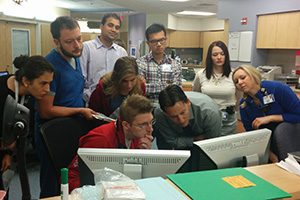 The University of Wisconsin Pediatric Critical Care Medicine (PCCM) fellowship provides comprehensive clinical experiences in pediatric critical care medicine, including cardiac critical care, anesthesia, pediatric sedation and pain control and pediatric transport. Fellows take increasing responsibility for patient care throughout the three years of training, becoming increasingly independent in performing such procedures as endotracheal intubation, central venous access, and procedural sedation.
Required Clinical Experiences
Required clinical experiences integrate the six Basic Core Competences and Milestones as outlined by the ACGME. All required rotations are listed below; fellows receive a detailed competency-based curriculum in each of these rotations.
American Family Children's Hospital Pediatric Intensive Care Unit
The American Family Children's Hospital Pediatric Intensive Care Unit (PICU) is the primary inpatient service for PCCM fellows. This comprehensive, state-of-the-art, 21-bed unit admits approximately 1000-1200 medical and surgical pediatric patients per year. Here, fellows provide direct patient care to all critically ill children admitted to American Family Children's Hospital. Fellows are primarily responsible for the management of all critically ill pediatric surgical subspecialty patients, including cardiovascular surgery, neurosurgery, otolaryngology, and general surgery. Although the PCCM team and fellow(s) provide the primary care of these patients, there is a co-management approach with the respective surgical subspecialty team. Following completion of the PICU experience, fellows will be competent in the management of mechanical ventilation, vasoactive medications, renal replacement therapy, and ICP management, sedation – analgesia, advanced respiratory care (high-frequency oscillatory ventilation [HFOV], nitric oxide [NO], etc.) and extracorporeal membrane oxygenation (ECMO). Overnight coverage by fellows allows continuity with patients, and the educational opportunity to see the effects of decisions and plans they made on daytime round. This structure also provides cohesive blocks of time for pursuit of scholarly activities. Clinical time commitments decrease with advancing levels of training.
Anesthesiology and Airway Management
Within the first six months of the fellowship, fellows will spend one month with pediatric anesthesiologists providing anesthesia in the operating room. The primary learning objective is to develop the required technical skills and judgment in basic and advanced management of the pediatric airway. Each fellow functions as an anesthesia resident and participates in the daily activities within the operating room related to anesthesia practice. Fellows also participate in Department of Anesthesiology conferences and educational sessions.
Pediatric Sedation Program
Fellows spend one month (half in the first year and half in the third year) in the Pediatric Sedation Program, which conducts approximately 1700 sedations per year. This unit is staffed by faculty from the Division of Pediatric Critical Care Medicine, all of whom actively participate in the fellows' didactic curriculum as well. The pediatric sedation curriculum is competency based, and emphasizes sedative and analgesic pharmacology, airway management, sedation techniques, noninvasive monitoring and procedural indications.
Pediatric Cardiovascular Intensive Care Unit Experience
All fellows spend approximately 2 months each year on the CVICU team within the PICU, caring for a wide range of patients with congenital heart disease in the pre- and post-operative periods. Fellows work closely with CVICU faculty, as well as the cardiology and CV surgery teams. Fellows also have additional learning opportunities in the operating room, catheterization lab, and echocardiography lab, and present at the weekly CVICU Conference. In this mixed PICU, all fellows throughout their training care for cardiac and non-cardiac patients when on call during nights and weekends.
Helicopter and Ground Transport
Didactic training in pediatric transport in the first year is required. All PCCM fellows attend didactic and practical education sessions for the air and ground transport teams. Fellows also receive mandatory training in telephone management of transport, including calls from referral centers and the transport team. Fellows also have the option of volunteering for air and/or ground transport, and can choose elective blocks devoted to transport. Fellows work closely with the experienced pediatric transport team during these experiences.
Elective Clinical Experiences
Fellows may participate in elective rotations to enhance competence in patient care skills, medical knowledge and practice-based learning in specific areas relevant to their future critical care practice. Similarly, elective clinical rotations promote systems-based practice for care of the critically ill child by working with specific specialty areas that comprise the multidisciplinary critical care team. Elective rotations include but are not limited to:
Adult critical care
Neurosurgical critical care
Additional pediatric cardiovascular intensive care unit (CVICU) time
Transport (air and ground)
Respiratory care (with respiratory therapists in PICU)
Pharmacy (with pediatric pharmacists to gain understanding of safety practices, order writing, medication dispensing, etc.)
Critical care nursing (with PICU nursing staff to better understand the nursing needs of patients/families and nursing duties)
Neonatal critical care
Burn care
Global health
Fellowship Contribution to the Department of Pediatrics and the American Family Children's Hospital
Department Contributions
The PCCM fellowship is an inpatient, hospital-based training program. Fellows provide daytime and nighttime coverage of the PICU. Additional contributions include:
PICU resident and medical student supervision and coverage;
PICU resident and medical student education in the PICU;
Consultation to the pediatric general wards and emergency room; and
Instruction in the Pediatric Advanced Life Support (PALS) course
American Family Children's Hospital Contributions
PCCM fellows conduct a significant amount of patient care work that positively impacts American Family Children's Hospital. Direct patient care and consultation impacts a number of different areas within the hospital, as well as referring physicians and hospitals. These include:
Pediatric sedation. Successful patient sedation greatly impacts patient care and efficiency in radiology, and in specific surgical and pediatric subspecialties at American Family Children's Hospital.
Vascular access procedures. Fellows and staff are frequently requested to obtain peripheral or central vascular access on pediatric inpatients. While not directly related to patient care in the PICU, provision of vascular access for children on the general wards promotes delivery of high-quality patient care.
Ground and air transport. Fellows take responsibility for pediatric transport from referring hospitals/physicians, and provide feedback and education to referring physicians both before and after a transport.
Urgent/emergent pediatric patient needs. Fellows are on the "front line" for pediatric code blue and pediatric rapid response team activations and other emergent/urgent situations.