The fellowship program at UW offers a rich scholarly experience and fellows have ample opportunities to get involved in research opportunities with members of the cardiology division as well as collaborators throughout the department of pediatrics, UW Health and the professional schools of UW Madison. Fellows with have approximately 12 months of protected time to perform research during their training. Through strong collaborative relationships with the Institute for Clinical and Translational Research and the Cardiovascular Research Center at UW, a cardiology fellow has multiple avenues to make research a cornerstone of their academic career. The division of pediatric cardiology has a research coordinator, Xiao Zhang, PhD, who works closely with fellows and faculty to advance research projects, provide assistance with grant writing and submission as well as research design.
Some highlights of research in the cardiology division are examples of projects that a prospective fellow could be involved in:
Amy Peterson, MD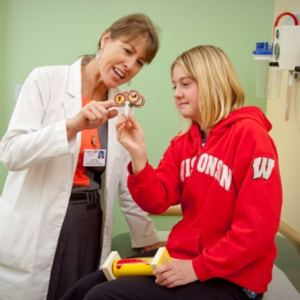 Dr. Peterson is a board-certified pediatric cardiologist and is one of the few pediatric-trained physicians who also holds certification as a Clinical Lipidologist from the American Board of Clinical Lipidology.  She is the founder and director of UW's Pediatric Preventive Cardiology Clinics program, which focuses on cardiovascular risk reduction and treatment of cholesterol disorders in children.  Her research team maintains a database of patients who have received care in the prevention program that has been used for many investigations.  She is a site principal investigator for CASCADE-FH (Cascade Screening for Awareness and Detection of Familial Hypercholesterolemia) study and DO-IT (Dyslipidemia of Obesity Intervention Trial. She is currently studying the impact of educational initiatives and electronic medical records modification on pediatric lipid screening rates and is collaborating with the Wisconsin State Lab of Hygiene to develop algorithms for diagnosis of cholesterol disorders in newborns.
J. Carter Ralphe, MD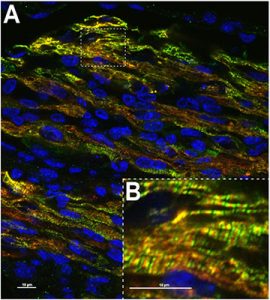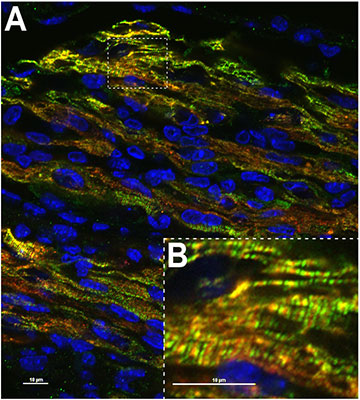 The Ralphe Reasearch Group is interested in understanding how mutations in genes encoding important regulatory proteins within cardiac cells lead to the development of hypertrophic cardiomyopathy (HCM). Studies focus primarily on mutations in cardiac myosin binding protein C (cMyBP-C), a protein that regulates contractility and functional reserve of the heart. Mutations in cMyBP-C are recognized as a leading cause of familial HCM. Their current approaches employ a novel 3D engineered cardiac tissue model using late fetal or early neonatal mouse cardiomyocytes from which they gather molecular, metabolic, and contractile data. Using human-derived induced pluripotent stem cells they can study cardiomyocytes from individuals carrying specific HCM-associated mutations. The lab, located in the state-of-the-art Wisconsin Institute for Medical Research, is equipped with standard and high-throughput molecular tools as well as two physiology workstations that measure muscle contractility -twitch force amplitude and kinetics of contraction and relaxation.
Nicholas Von Bergen, MD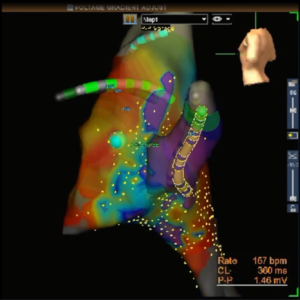 Dr. Von Bergen's interests focus on techniques to improve the current standard of practice in electrophysiology through research and innovation. Involved in multiple research projects, these interests are highlighted by work developing a new technique for ablation of the most common pediatric arrhythmia, atrioventricular nodal re-entrant tachycardia (AVNRT).  This ongoing research, now a multi-institutional study, has the potential to become a new standard of care for AVNRT. Additionally, he is active in the development of new technology in collaboration with multiple bioengineering specialists at UW, currently with three patents submitted.  This has allowed opportunities to expand research into areas of clinical need such as looking into improvements in post-operative arrhythmia diagnosis and management through continuous real-time monitoring of the atrial electrogram using epicardial wires the and AtriAmp, a device that was invented through work at the UW.
Scholarly Oversight
Each fellow will assemble a Scholarly Oversight Committee (SOC), composed of at least 3 faculty members, one of whom is outside of the subspecialty discipline. The SOC meets initially during the first year of fellowship, then twice a year afterward to evaluate the fellow's scholarly progress and to help provide support and direction. At the end of training, the SOC is responsible for determining whether the fellow's research and work product have met the American Board of Pediatrics requirement for sub-specialty board eligibility.
Recent Division Publications: https://www.pediatrics.wisc.edu/divisions/cardiology/research/