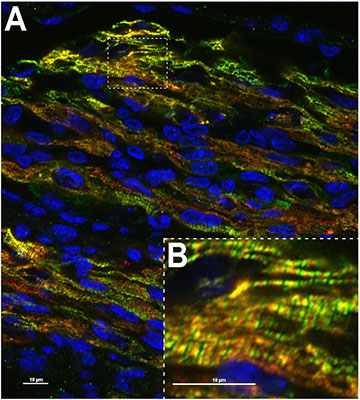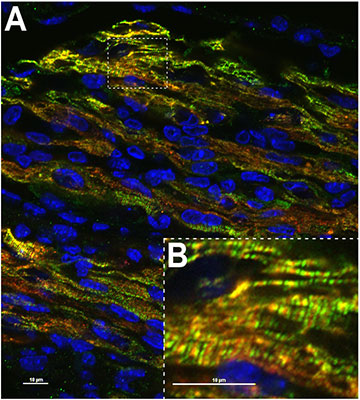 Our Research Group is interested in understanding how mutations in genes encoding important regulatory proteins within cardiac cells lead to the development of hypertrophic cardiomyopathy. Studies focus primarily on mutations in cardiac myosin binding protein C (cMyBP-C), a protein that regulates contractility and functional reserve of the heart. Mutations in cMyBP-C are recognized as a leading cause of familial hypertrophic cardiomyopathy.


Our current approaches employ a novel 3D engineered cardiac tissue model using late fetal or early neonatal mouse cardiomyocytes from which we gather molecular, metabolic, and contractile data. Using human-derived induced pluripotent stem cells (iPS cells) we can study cardiomyocytes from individuals carrying specific HCM-associated mutations. Our living integrated cardiac tissue model can be applied to understanding normal and abnormal physiology as well as identifying the impact of known or unknown compounds on cardiac performance.


The lab is equipped with standard and high-throughput molecular tools as well as two physiology work stations that measure muscle contractility (twitch force amplitude and kinetics of contraction and relaction). The first is equipped with a high speed length controller to dynamically mimic loading conditions and a force transducer integrated with an IonOptix system for measuring dynamic intracellular signaling events including calcium transients and NADH oxidation. The second station is designed to measure oxygen consumption and metabolic activity while gathering simultaneous force data. With these tools we can measure simultaneous intracellular events and integrated tissue contractile performance.
The lab is located in the state-of-the-art Wisconsin Institute for Medical Research (WIMR) on the campus of UW-Madison.


The Ralphe lab offers an ideal learning environment for undergraduates, PhD and MD-PhD students, and Fellows. The collaborative setting supports highly motivated individuals along their path towards an independent scientific career.
Research News
J. Carter Ralphe, MD, professor and chief, Division of Cardiology, was selected to serve a second term on the American Heart Association's (AHA) National Advocacy Coordinating Committee (ACC). The ACC sets advocacy policy for the …

July 14, 2023