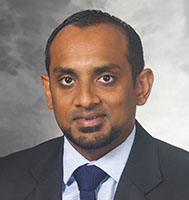 Dinushan Kaluarachchi, MBBS, associate professor and director of neonatal clinical research, Division of Neonatology and Newborn Nursery, recently earned professional certification by completing the Certificate in the Fundamentals of Clinical Research. It is one of several certificate training programs offered by the UW Institute for Clinical and Translational Research (ICTR).
This program provides formal training and a practicum in research design and statistical analysis for health care, biotechnology, and pharmaceutical industry professionals. ICTR's certificate programs were created to respond to the National Institutes of Health's priorities for a well-prepared clinical and translational science workforce. The Certificate in the Fundamentals of Clinical Research program includes five courses for a total of 13–14 semester credits. The required courses include work in biostatistics, two consecutive courses in clinical trials, and an introduction to epidemiology. A one- or two-credit lecture course addressing ethical conduct in research completes the course sequence.
Kaluarachchi has clinical interest in cardiopulmonary diseases in preterm infants, especially respiratory distress syndrome due to surfactant deficiency. He collaborates on several clinical research projects with the Neonatal Research Network and the lung-pulmonary vascular group at UW–Madison. He is principal investigator for two current clinical trials addressing less invasive surfactant administration techniques. Kaluarachchi found the ICTR's research certification program's courses to be very relevant and applicable to his current work and recommends the program to other researchers.