Q&A with Kelsey Legro, DO, assistant professor, Division of General Pediatrics and Adolescent Medicine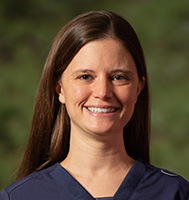 Hometown: Peoria, Illinois
Educational/professional background: I was an undergraduate at the University of Illinois at Urbana-Champaign; I completed medical school at Des Moines University.
Previous position: Pediatric resident at the Children's Hospital of Illinois in Peoria
How would you describe your work to a 5-year-old? I help keep kids healthy.
What is your field of research or area of clinical care, and how did you get into it? I decided to become a pediatrician because I enjoy getting to build relationships with kids and their families. Pediatricians are in a unique position where we can help instill healthy habits in our young patients to set them up for healthy life.
What attracted you to UW–Madison? Madison is a great city with a wonderful children's hospital and clinics. It is close to my family and friends, allowing for a good work-life balance.
What is your favorite thing to do in Madison? Exploring all the parks and trails.
What's one thing you hope trainees will learn from you and your work? I hope they will learn how to listen to and address parents' concerns in a non-judgmental and reassuring way.
Do you feel your work relates in any way to the Wisconsin Idea? If so, please describe how. As a pediatrician, I am educating patients and their families during every visit. I educate to help them understand their illness and how to treat it, as well as to offer general advice on how to live a healthy lifestyle.
What are some of your hobbies and other interests? I enjoy golfing, biking, and mostly just being outdoors.