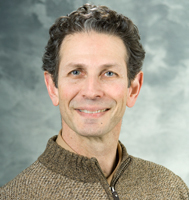 For more than 30 years, Bruce Klein, MD, professor and chief of the Division of Infectious Diseases, with appointments in the Departments of Medical Microbiology and Immunology and Medicine, and his research team have been investigating Blastomyces dermititidis, the toxic fungus that causes blastomycosis.
This fungus, endemic in Wisconsin, grows in decaying leaves and wood in acidic soils. When an unsuspecting person or animal walking in the woods or along a riverbank breathes in the air-borne spores, a serious respiratory infection can result. It can be as mild as a cough or as serious as severe pneumonia, systemic organ involvement, and death. Dogs are also susceptible to the fungus
Klein and his research group have been investigating the genetic underpinnings of susceptibility to fungal infections. He considers Blastomyces dermititidis and other toxic fungi as important public health issues that are not often recognized.
On November 17, as Wisconsin's gun deer hunting season was about to begin, UW Health published a press release about the dangers of blastomycosis, including symptoms hunters should be aware of weeks and months after spending time in the woods. Symptoms can take up to three months to appear. Presence of the fungus in the body can be determined by a physician through a blood test, and it can be cured with antifungal medications if detected early.
Coverage of the story appeared in media outlets across the state, including Madison, Green Bay, La Crosse, and Eau Claire.
"'This is a fungus that can make you very sick': Hunters warned about blastomycosis in soil" aired on WQOW in Eau Claire on November 17, 2022.
"UW Health warns of dangerous respiratory illness in Wisconsin, cautions hunters heading outside" was published on Madison's nbc15.com on November 17, 2022.